2018 Commonwealth Games: Manika Batra's change of tactics caught Singapore by surprise
Manika Batra won both her singles rubbers against Singapore as Indian women's table tennis team clinched gold at the Commonwealth Games 2018 in Gold Coast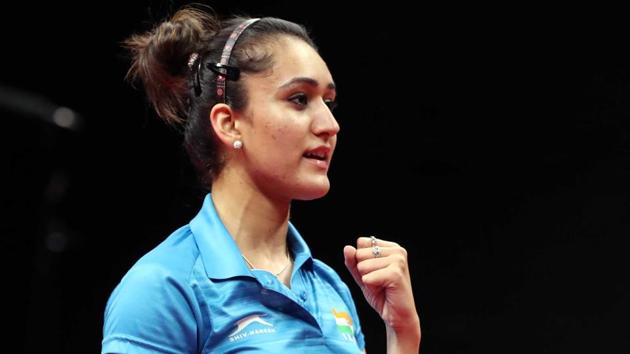 Updated on Apr 08, 2018 08:26 PM IST
As Manika Batra faced Singapore's Zhou Yihan in the fourth match of women's team competition in table tennis, she started playing the national anthem in her mind. The score was 7-7 and the Indian needed four points to seal victory for India. Against an opponent quite capable of staging a comeback, any mistake on Manika's part would have pushed India into a high-pressure fifth rubber with Singapore on top. (2018 Commonwealth Games Gold Coast, highlights)
"I played the national anthem in my mind, egging myself on to not allow her to come back," Manika said after sealing victory for India by winning the next four points. "I stuck to my tactics."
Manika had earlier defeated world No. 4 Feng Tianwei, Singapore's top singles player, for the first time to set the ball rolling for India.
READ | 2018 Commonwealth Games: India beat Singapore in women's Table Tennis to clinch gold
The 22-year-old from Delhi, ranked 58, was a revelation as she punched above her weight. She changed her tactics. Instead of blocking on backhand and attacking on forehand as she usually does, Manika surprised Tianwei by doing just the opposite and got the better of the Singapore player for the first time.
"This is definitely my best performance ever and I am really ecstatic. I have a fantastic team and their support really helped me. Before the match, I sat down with my coach and we decided the strategy as Singapore were the favourites. I am really happy to have helped the team win gold," Manika said after the match.
India's Italian coach Messimo Constantini too was ecstatic following the gold medal win. "Singapore were super favourites for gold but we have a very good set of players. Ahead of the final, I told them about a world championship match a few years ago when Singapore used similar tactics to stun China. I told them we can do the same thing against Singapore and they did that," said Constantini.
The coach was happy with Manika. "She is the real star of the win as she won each point in different way, not allowing the Singapore players to read her game and tactics. I devised the tactics but Manika executed them perfectly, which is very important. You can devise the tactics but if you are not able to execute them then they are of no use," said Constantini.
The coach said he started to believe that India could pull off after Manika won the first match. "That set the tone and we became confident. We did not succumb to pressure even when Madhurika lost. She played well but got nervous and made mistakes," he added.
Constantini is now looking forward to the men's team doing the same against Singapore in the semi-finals on Monday. "That too will be a tough match and I hope my boys take inspiration from this win and reach the final," he said.
Close Story