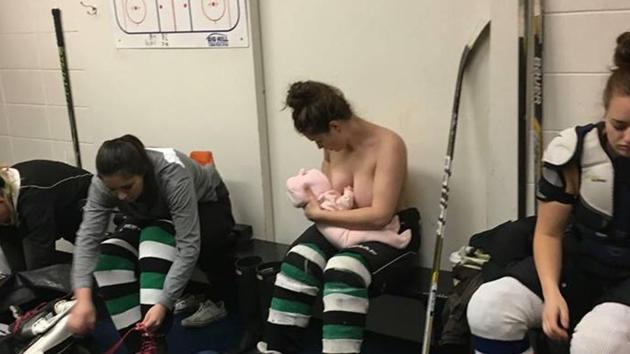 Canada's new hero: Hockey player breastfeeds 8-week-old baby during game breaks
Serah Small loves hockey so much that she was back on the rink just eight weeks after giving birth to her daughter Ellie.
Hindustan Times, New Delhi | By HT Correspondent
UPDATED ON APR 01, 2018 03:26 PM IST
Canadian teacher and hockey player, Serah Small, wants to tell mothers worldwide that it is okay to breastfeed anytime, anywhere - including the dressing room.
Small, 24, loves hockey so much that she was back on the rink just eight weeks after giving birth to her daughter Ellie. During one of the games, Small realised that she had forgotten her breast pump at home. So, she stripped down in the locker room and breastfed her baby during the game breaks.
Small's teammates didn't bat an eyelid, either. "They just continued getting ready. It wasn't a big deal, they thought she was so cute. So that was it, it was normal," she told CBC.
Small said she tried to cover Ellie while breastfeeding, but was unable to do so as the baby suffers from tongue tie. It is a birth defect that affects the connecting skin under the tongue, which wasn't allowing the baby to latch well.
"I felt really empowered and no one looked or cared. I thought, 'Wow, why did I make such a big deal out of this?' I don't think breasts should be a sex symbol when their main job is to nurture our children," Small said..
The new mother sent the photo to Milky Way Lactation Services, who posted it on Facebook. The image has since gained praise on social media. It has been shared over 1,200 times and liked by over 3,000 people.
"I never thought this photo would ever leave the lactation page and especially go viral," Small told CNN.
Small says she does not think she has done anything different than millions of moms before her. Several people also slammed her for sharing the photograph. "I have been so scared to post this photo that I absolutely adore. Why? Because society has made breasts sexual," she told People.
"I felt my milk come in and leak as I played and between periods I would strip down to feed my 8 week old babe. Being a mom is absolutely amazing and I'm so happy I got to do something I absolutely love while still meeting my babies needs. Our bodies are amazing and this weekend was the first time I truly appreciated mine," read Small's Facebook post.
The photo has several lactation experts upset, lamenting how such a natural act continues to be sexualised and shamed. Dr Dan Flanders of Kindercare Pediatrics in Toronto called negative reaction to the photo 'incredibly disappointing'.
"In a world that supports women and moms it should be a complete non-issue," Flanders told HuffPost Canada. "It should be like shopping at the supermarket. It should be like driving in your car to work, it should have no emotional impact but it obviously unveils a lot of hangups that we have in our society now."
Close