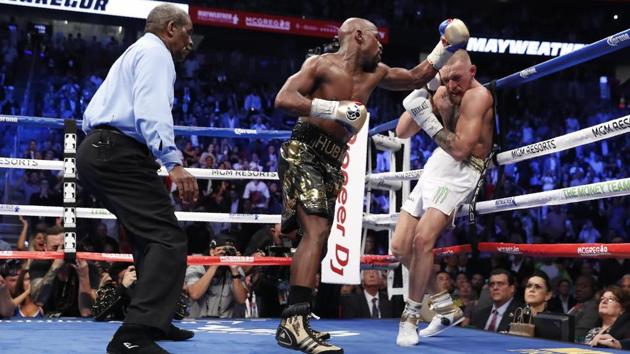 Floyd Mayweather vs Conor McGregor, Las Vegas, boxing highlights: Mayweather wins, career record at 50-0
Floyd Mayweather defeated Conor McGregor via a technical knockout in the 10th round of their bout in Las Vegas, in what was billed as the 'Fight of the Millennium'. Get Floyd Mayweather vs Conor McGregor, boxing highlights, here.
By Bhargab Sarmah
UPDATED ON AUG 27, 2017 10:55 AM IST
Floyd Mayweather had to wait till the 10th round before sealing a win via technical knockout against Conor McGregor in their bout at the T-Mobile Arena in Las Vegas, Nevada, today. McGregor started the bout well and exceeded the pre-bout expectations, putting Mayweather under pressure on many occasions. However, Mayweather's experience started to show from the seventh round, as he began to dominate proceedings. McGregor eventually ran out of gas, and the referee had to end the fight midway through the 10th round. With the win, Mayweather has extended his perfect career record to 50-0. Get Floyd Mayweather vs Conor McGregor, boxing highlights, here. (LIVE STREAMING INFO)
Floyd Mayweather: He's a lot better than I thought he was. He used different angles, but I was the better man. It was our gameplan to take our time and take him out down the stretch. I chose the right dance partner for my last dance. This was my final fight.
Conor McGregor: I thought it was close. I get a little floppy when I get tired. He was a lot more composed. You've got to give it to him. I don't know if I will box again.
10:25 hrs IST: That's it! The referee stops the fight in the 10th round. Floyd Mayweather wins via TKO to extend his career record to 50-0.
10:20 hrs IST: McGregor in a desperate situation. Will he stand firm for three more rounds?
10:16 hrs IST: Mayweather dominates the eighth round, putting McGregor on the back foot. Will we see a knockout here?
10:12 hrs IST: Mayweather lands two huge blows on McGregor. Has he grabbed the advantage now?
10:08 hrs IST: We're halfway through and it's too close to call.
10:00 hrs IST: Mayweather with a couple of blows on McGregor. His experience is starting to show here.
09:56 hrs IST: This is a much tighter affair than expected. McGregor has done well so far.
09:52 hrs IST: McGregor is standing his ground, but Mayweather just landed a big right hook to the right side of the Irishman's face.
09:49 hrs IST: Good start by McGregor! Goes on the offensive straight away. Round 1 comes to an end.
09:45 hrs IST: And we're off! Floyd Mayweather vs Conor McGregor bout starts in Las Vegas.
09:38 hrs IST: Both boxers have entered the right. Can McGregor shatter all expectations today? Or will Mayweather reign supreme?
09:30 hrs IST: The Irish national anthem is being sung. The big bout is finally about to start after the delay.
09:20 hrs IST: LeBron James, Ozzy Osbourne and Mike Tyson among the celebrities at the T-Mobile Arena today. Millions of fans are expected to tune in for this bout.
09:12 hrs IST: David has beaten Fonseca via knockout. That's it for the undercard bouts. Mayweather vs McGregor is moments away.
09:05 hrs IST: The last undercard bout of the night between Gervonta Davis and Francisco Fonseca is still on, which has caused a short delay in the start of the Mayweather vs McGregor bout.
08:55 hrs IST: Both fighters are ready for the bout. It's just moments away now.
08:45 hrs IST: Conor McGregor will carry a considerable edge in weight and support into today's fight with Floyd Mayweather. He had weighed in almost four pound heavier than the American.
08:35 hrs IST: Mayweather is putting his perfect career record on the line today. Is Conor McGregor a safe bet for the Amreican great? We will find out today.
08:30 hrs IST: Hello and welcome to our live coverage of the Floyd Mayweather vs Conor McGregor bout.
Billed as the 'Fight of the Millennium', both boxers will come out of the bout with massive paydays, irrespective of the result.
McGregor has trained extensively in recent weeks in preparation for this bout. Will the king of the octagon he be able to adapt to the relatively new surroundings of a boxing ring?
Or will the 29-year-old UFC lightweight champion prevail over his 40-year-old opponent? The world is watching!
Close