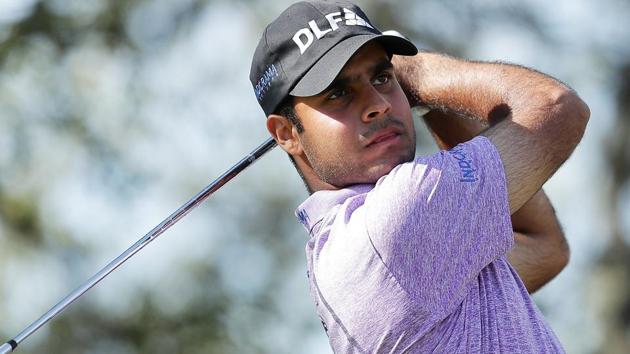 For Shubhankar Sharma, Augusta Masters golf invite par for the course
Shubhankar Sharma has been on a roll in the past year and the Augusta Masters golf invite further underlines the achievement of the 21-year old.
Chandigarh | By Manraj Grewal Sharma & Ramesh Vinayak
UPDATED ON APR 03, 2018 09:47 AM IST
Inviting Shubhankar Sharma for this week's Masters — this is the first time since 2013 the Masters has extended this special invitation — its national chairman Fred Ridley said, "As his results have proven, Shubhankar Sharma is a remarkable young player."
Remarkable. That is the catchphrase which describes the 21-year-old from Chandigarh. That's the word world No 7 Rory McIlroy must have had in mind when he said he would be happy to practice with the youngster before the Masters.
READ | Commonwealth Games 2018: Boxing coach, doctor under scanner after needle incident
Calling him a "super skilled golfer", coach Jessie Grewal says the only way for Shubhankar is up. "Mentally, he is very strong. He doesn't get flustered even when the fairways are full of big boys."
Shubhankar though stays grounded. "I love the game and will do whatever it takes to reach the highest level."
LOVE AT FIRST DRIVE
Shubhankar was barely six when he got into the swing of things. It was his mother Neena, a doctor of therapeutic yoga, who introduced him to the sport. Neena, who hails from Poonch in Jammu & Kashmir, says she was always attracted to the game. "Call it destiny, but I always felt there was something special about it."
It was only when Shubhankar's father Col Mohan Lal Sharma (retd), who is from Bhaderwah in J&K, was posted at the Defence Services Staff College in Wellington that magic happened. "When I was in hospital for 23 days during the birth of my daughter Vandini, Shubhankar was six. On the day I was being discharged, Dr Tushar Lahiri, my gynecologist, showed me the photo of his son Anirban, then a top junior golfer, and said we should also teach Shubhankar to play golf."
Last month at the WGC-Mexico Championship, Shubhankar overtook Anirban as the highest-ranked player from India. All praise, Anirban said, "I like his grit. He's got a stable head on his shoulders."
Taking the advice of Lahiri Sr, Col Sharma bought a golf set for himself and gave Shubhankar his first club, a 2 iron. The boy instantly took to the game and impressed everyone.
READ | Court questions gymnastics federation's selection for Commonwealth Games 2018
It was when he joined Bal Bhawan, Bhopal, in Class IV that he got his first coach in Devender Patel. Seeing the youngster play, he told the family, "Now you will only talk golf for the rest of your life." Neena, who had by then read up reams on Tiger Woods, remembers feeding him lunch after school, and then rushing off to the golf course with him and Vandini, then 3. "She remains his biggest fan and best stress-buster," laughs Neena, who started keeping a diary on her son's game.
His first big win was at the Central India Tournament, Bhopal, when he was in Class IV. Thrilled, the school gifted him a new golf set and free coaching. With newspapers calling him a rising star, it was Shubhankar's first brush with fame.
CALM AND FOCUSED
Excelling at academics and golf, some teachers told him he was IIT material, and should perhaps focus on academics. But the little champion stayed on course. "Eventually, the teachers too gave him full support," says Neena, who attributes his focus, detachment and sense of responsibility to his schools, yoga and army upbringing.
Arjun Atwal, the only Indian to win on the PGA Tour, vouches for Shubhankar's equanimity. "He was 17 when I first met him, but he came across as an old soul." Shubhankar says, "I believe in doing my best and leave the results to God."
The youngster was in Class II when he learnt pranayam at school, and meditation from his mother; in Class III he was made sports captain of Rani Lakshmibai Public School, Jhansi. In Class IV, he was captain of the junior wing at Bal Bhawan. In Class V, he took part in the Central India tournament, junior circuit, and spent 10 days in Mumbai by himself. In Class VII, he decided to play a mindboggling 62 holes at the army golf course in Patiala where Col Sharma was commanding a unit.
READ | Commonwealth Games: Saina Nehwal fumes as dad's name axed from Indian contingent
Neena laughs as she recounts how he left home, saying he would be back after a round. "When he didn't return, I called up his caddy and found he was on the 62nd hole. It was only after his father ordered him to return that he did."
In Class VIII, Yadavindra Public School, Patiala, gave him a scholarship for sporting and academic excellence.
MARCH TO FAME
At 16, he turned professional, and went on to become the youngest Indian player to win a title at 17. Col Sharma, identified by his trademark fedora hat, took voluntary retirement in 2012 to support his son. "My son was spending more time on the fairways, I needed to be with him," reasoned the Colonel, who made sure the youngster cleaned his golf set himself.
Though some feel Shubhankar turned pro too soon, Jessie Grewal, his coach since childhood, disagrees. "It's not about age, it's about your hours on the greens and Shubhankar had already clocked over 10,000 hours or 10 years when he turned pro. He made the right progress, from small to big to very big events."
Grewal says he didn't really have to coach the youngster. "He already knew his golf, I just helped him with his swing and mentored him about the tournaments he needed to play."
Grewal, who has coached a legion of champions, says Shubhankar is special.
"He is naturally gifted when it comes to mental strength. No matter how many changes you make to his technique, he believes he can still play well and beat everyone else. He doesn't get flustered by big players and is decisive."
READ | Commonwealth Games 2018: Saurav Ghosal's ranking boost gets him third seeding
The coach is all praise for the dedication of the parents. "His father left a promising career in the army and relocated the family to Panchkula for the sake of Shubhankar's golf. He manages everything, right from his travel and hotel bookings to his diet."
Shubhankar is a vegetarian and teetotaler. "It's a healthy choice, it suits my son," says Neena, telling you how at home they don't even use garlic or onion.
ON THE WORLD MAP
The past few months have been spectacular for Shubhankar. "His world ranking shot up from 454 in October 2017 to 66 at the WGC-Mexico," says Grewal, who calls his victory at the Joburg Open in December, his first European Tour title, the turning point of his career. Two months later, he bagged his second European Tour title by winning the Maybank Championship in Malaysia.
Col Sharma is happy with his son's rise. Earlier in Dubai this year, he prophesied, "He will be world No 1 one day."
Grewal nods in agreement. "He's being noticed by everyone. Generally, the commentators are ruthless while dissecting a player's game. At Joburg, iconic commentator Peter Alliss went on record to say that he couldn't see a blemish in Shubhankar's game."
READ | Gold Coast Commonwealth Games 2018: Why Indians are in the eye of the needle
Everything is coming together for the youngster, says Grewal. Gurbaaz Mann, a pro from Chandigarh who caddied for Shubhankar at WGC-Mexico, is also an ace club-fitter and had earlier worked on his clubs. In the summer of 2015, Mann had raised funds for a 12,500-mile trip for 10 golfers, including Shubhankar.
The two were delighted when they encountered Phil Mickelson, a 43-time PGA Tour winner, on the putting green at WGC-Mexico. Later, Shubhankar said it was like watching television.
Little does he know that increasingly golf enthusiasts are switching on the television to watch him.
Close