India's Amit Saroha clinches silver in World Para Athletics Championships
Amit Saroha of India clinched silver medal in the club throw event in the F-51 category at the ongoing World Para Athletics Championships in London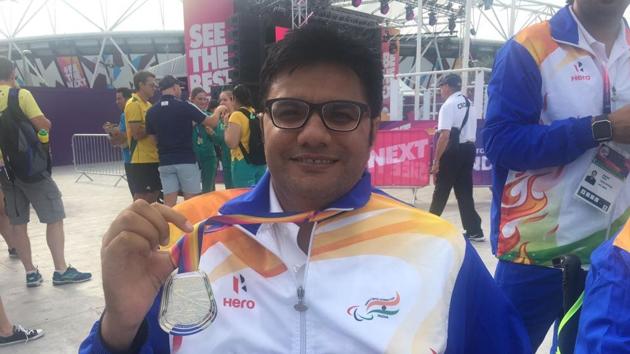 Updated on Jul 17, 2017 09:51 PM IST
For almost a decade, former national-level hockey player Amit Saroha has been wheelchair-bound, after a horrific a road accident in 2007 left him crippled.
The severe spine injury would have crushed many others, but didn't deter Saroha from chasing his sporting dreams. The 32-year-old overcame the disability with a never-say-die attitude, and on Monday gave Indians a sporting moment to cherish.
The 32-year-old clinched silver medal in the club throw event in the F-51 category --- below waist paraplegic category --- at the ongoing World Para Athletics Championships in London. The event is the equivalent of the hammer throw, only para athletes throw a wooden club.
Saroha made amends for his disappointment in the 2016 Rio Paralympics, where he narrowly missed bronze. He produced his career best performance in London, hurling the club to 30.25m to set an Asian record as well.
READ | Sundar Gurjar puts behind Rio 2016 disappointment, wins gold at Para-Athletics Worlds
Rio Paralympics champion Zeljko Dimitrijevic of Serbia retained the title with a world record throw of 31.99m. His compatriot Milos Mitic took bronze at 29.06m.
"I was expecting a medal in the Rio Games, but somehow missed it by a few centimetres. For the last nine months, I was eagerly waiting for the world championships to make up for my Rio loss. Thankfully, I was able to do it today," Saroha told HT after his event.
"This is my second medal in the world championships, but this one is special as I was able to increase my distance by around five metres from the 2015 edition, where too I got silver," added the Arjuna awardee, who is assistant coach with the Haryana Sports Department.
Hockey turf to para-sports
Even as he was coming to terms with the shattering accident, Saroha saw a silver lining after being introduced to para sports.
"It was on September 21, 2007 when in a road accident I suffered the severe spinal injury. After a few days of treatment, I was told by the doctors that for the rest of my life I would be on wheelchair. For a moment I felt everything was over for me. But then I realised the accident gave me permanent disability, but still I didn't lose my life. So, whatever happened is my destiny," recalled Amit, who hails from Bayanpur village in Sonepat.
"I consider the date of the accident as my new birthday, and since then I have celebrated it with my friends."
READ | With driver in tow, Paralympic body takes everyone for a ride
During treatment in the Indian Spinal Injury Centre he met an American, who introduced him to wheelchair rugby. Saroha formed the Indian team and played a demo match against Brazil in the World Para Games in Bangalore in 2009.
"In Bangalore I got to know about para sports. With six months' training in shot put, I made it to the national squad. The rest as they say is history," said Amit, who has also won a Para Asian Games gold.
Helping hand for fellow athletes
Saroha, who has received cash awards amounting to around Rs 4 crore for winning medals at international level, has never shied away from helping fellow athletes. He has helped many disabled athletes to get take up para sports and has sponsored those not financially well off.
"By the grace of god, I am financially well off and what I have earned, be it money or recognition, is all because of para sports. So, it's my time to give back to the sport," said Saroha, whose protégées Dharmavir Nain, Rampal and Sunil Phogat are also competing in the World Para Championships in London.
India's other medal in London was won by Sundar Gurjar, who claimed javelin gold in the F-46 category (single arm amputee).
Close Story