India vs Australia, Champions Trophy hockey final highlights: Australia beat India 1-1 (3-1) via penalties
Jul 01, 2018 09:24 PM IST
The Indian hockey team lost to holders and World No.1 Australia in the final of the Champions Trophy. Get highlights of India vs Australia, Champions Trophy hockey final, here.
The Indian hockey team lost 1-1 (1-3) to world No.1 and defending champions Australia in the final of the Champions Trophy in Breda on Sunday. Australia won the tournament a record 15th time as India had to be content with a silver medal finish. The final and the scoreline is a repeat of last edition's summit clash where Australia had beaten India by the same margin in the penalty shooout after the regulation period score read 0-0. The Netherlands beat Olympic champions Argentina 2-0 to win the bronze medal playoff. Get highlights of India vs Australia, Champions Trophy hockey final, here.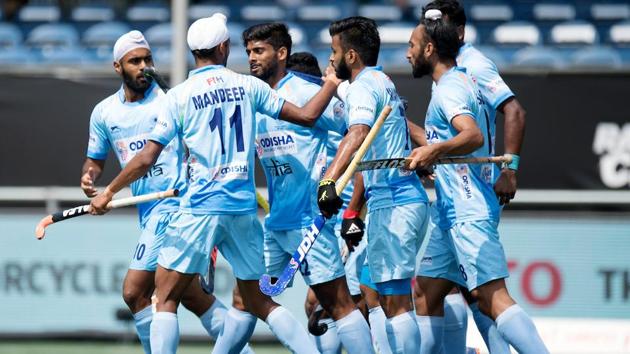 21:25 hrs IST: Hope you enjoyed the coverage. Thanks for joining in
21:18 hrs IST: India again lose in the penalty shootout against Australia with the same scoreline like 2016 in the penalty shootout
21:14 hrs IST: Heartbreak again! India lose 3-1 in the shootout
21:12 hrs IST: Australia lead 2-1
21:10 hrs IST: Sardar misses and Australia have scored both times
21:08 hrs IST: Australia score! They take the lead
21:07 hrs IST: This is a repeat of last edition's final where Australia won 3-1 in the shootout! What will the result be this time around
21:05 hrs IST: Wow! What an exciting game of hockey this was.
21:03 hrs IST: 1-1 at regulation period! Penalty shootouts!
21:00 hrs IST: Less than a minute to go for the regulation period to end
20:55 hrs IST: This has been one fine final with India producing some top level hockey against a team which has won everything there is to win in the sport
20:52 hrs IST: Australia in the Indian D but the ball is kept out by captain Sreejesh. Last 10 minutes of the game left
20:50 hrs IST: And the last 15 minutes of the tournament begin in Breda
20:48 hrs IST: End of third quarter!
20:47 hrs IST: Mandeep almost put India 2-1 ahead but good defence by the Australian goalie
20:45 hrs IST: But now India are back in the game
20:43 hrs IST: Before that goal Mandeep Singh had also struck a good shot only to hit the goalpost
20:40 hrs IST: Goal! Vivek Prasad puts it in and India are 1-1 vs Australia
20:37 hrs IST: This game is purely a quest for an equaliser for India now
20:34 hrs IST: This is skilful and fluid hockey from Australia
20:31 hrs IST: Variations are justified especially against a team like Australia where stopping a straight flick is not much of a task. But then those variations also need to count!
20:28 hrs IST: And they miss again! Again a variation and there goes a missed opportunity
20:26 hrs IST: And another penalty corner for India. Will they make this one count?
20:23 hrs IST: And here starts the second half
20:15 hrs IST: Half-time and Australia lead India 1-0! What an exciting first half this has been
20:10 hrs IST: It is Blake Govers who has scored for the defending champions in the 24th minute and what a drag flick it was, precise and fast
20:08 hrs IST: PC for Australia now! Their first one and they take 1-0 lead!
20:05 hrs IST: Australia maintain ball possession and the game is being played in the Indian half
20:00 hrs IST: Penalty corner for India! And good defence by the Australians, charging forward. Still 0-0
19:57 hrs IST: Here begins the second quarter. Who will break the deadlock?
19:55 hrs IST: Goalless after the first quarter!
19:53 hrs IST: Superb chance for India.... oh just missed.. These kind of chances need to be converted if India want to win this event
19:51 hrs IST: Another penalty corner and another PC missed
19:49 hrs IST: Penalty corner for India and they mess it up! What a poor pass from Manpreet Singh from the spot
19:47 hrs IST: Australia had a good chance there and almost scored. They just could not control the ball at the end. The Indian defence has to be careful of not giving away an early lead
19:45 hrs IST: Good stuff from India. They are matching the reigning champions currently in terms of pace, possession and skill
19:42 hrs IST: India maintain possession in the beginning phase of the match
19:40 hrs IST: The anthems have been sung and it is time for the match to begin
19:38 hrs IST: And the Netherlands have beaten Olympic champions Argentina 2-0 in the bronze medal playoff match
19:35 hrs IST: Meanwhile Belgium beat Pakistan 2-1 in a penalty shoot out after regulation time score read 2-2
19:30 hrs IST: In Champions Trophy, the two teams have played 16 times with Australia winning 12 times, India twice and two games have ended as draws
19:25 hrs IST: The two teams have played each other 123 times with Australia winning a whopping 82 games while India only 22. 19 games have ended in draws
19:20 hrs IST: Australia had beaten India 3-2 in the league phase and are undoubtedly the favourites. They are ranked No.1 in the world, the defending champions and also the reigning World Champions
19:15 hrs IST: India have never won the event. They have only reached the final twice -- 2016 and 2018 -- basically the last edition and this one
19:10 hrs IST: Australia have won the Champions Trophy a record 14 times and will be gunning for their 15th crown. Australia have won six of the last seven Champions Trophy titles
19:05 hrs IST: This is a repeat of the last edition's final two years ago in London where Australia beat India 3-1 in the penalties after the regulation time score read 0-0
19:00 hrs IST: Hello and welcome to the live blog of the Champions Trophy final between India and Australia
India had lost 2-3 to Australia during the league stage on June 27 and this is a chance for coach Harendra Singh's team to earn redemption.
The two teams have played 123 games against each other with Australia winning 82 and India only 22 while 19 have ended as draws.