Players are the real heroes, says India coach after Hockey Junior World Cup win
Published on Dec 18, 2016 11:06 PM IST
India scripted a new chapter in hockey history, regaining the Junior Men's Hockey World Cup after a gap of 15 years, defeating Belgium 2-1 in the final at the Major Dhyan Chand Stadium in Lucknow.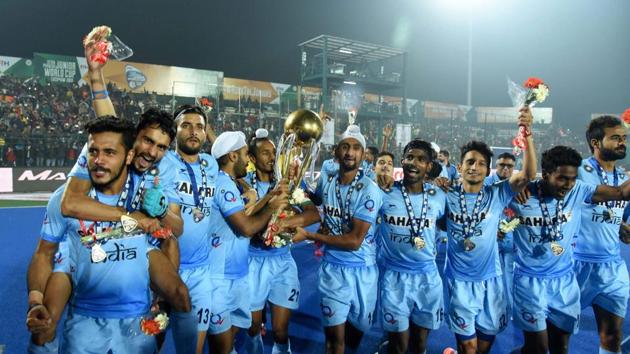 It was an emotional moment for India coach Harendra Singh on Sunday as he broke into tears. The boys and he had been waiting for this day for the last two years. (HIGHLIGHTS)
"I have no words to say anything at this juncture, but it's true that even before our first camp of the junior side two years before, I wanted this to happen," Harendra told HT after India scripted a 2-1 win against Belgium to win the Junior Men's Hockey World Cup for the second time in history. "Today's heroes are the players and I wouldn't like to take the limelight. These are golden 18 gems of India, and today is their day. In April 2014, I had told that we are going to win the trophy, you can ask these boys."
Senior team coach and manager of the junior side here, Roelant Oltmans termed it 'Chak De India'. "The first half was very close to perfect game. But in the second half we gave them a little bit too much initiative to be honest. But not one second in this game I was worried. The boys did a fantastic job and all the credit to these 18 players and it's; Chak De India for all of us," he said.
READ | 'Chak De India': Hosts claim second Hockey Junior World Cup title after 15 years
Young Gurjant Singh, who was later adjudged man-of-the-match, claimed that he was also waiting for this day to happen. "I saved my heroics for the last two important matches."
Captain Harjeet Singh too praised the boys for success. "I would like to thank all the players who have aimed to win this trophy. Everybody has put in a lot of hard work. We all had one aim and we thankfully we managed to achieve that today."
"We all knew what we have to do in the field, everyone knew their duties. We just concentrated on that and played simple hockey. We played the final like a final. We were leading by two goals and our planning was to sit back and defend and rely on counters," he said, adding, "We played according to our plan. Every player had put in energy what was expected from them."
Admiring the huge score of crowd, Harjeet admitted that it was tremendous and he had never such a backing ever in his life. "Crowd support gave us a lot of confidence but we played according to our structure which we have been implementing for the last two-and-a-half years."
Belgium coach Jeroen Baart, too, admired India's supremacy in the final game. "They (India) started really well, and our boys didn't hand the crowd and the atmosphere really well. They were pretty fast," he said. "After the initial stages we became more patient and that gave us a little bit of momentum but they scored another goal. I am very proud of the boys they played in the second half. They adjusted to the crowd pretty well. They were patient and didn't try to force themselves."
He, however, admitted that playing against India and that too in India wasn't easy. "It was not very easy to play India in Indian at such a fantastic atmosphere. Today we weren't good enough to beat Indian in India. Our strength is patient. Our strength is that we don't go for kill. We just wait for the right moment."
Personalise your news feed. Follow trending topics