Pro Wrestling League: Haryana Hammers continue winning run
Jan 14, 2017 10:13 PM IST
Haryana Hammers continued to have a wonderful time in the Pro Wrestling League with victory over Jaipur Ninjas
Haryana Hammers continued their winning streak in the Pro Wrestling League Season 2 by defeating Jaipur Ninjas 5-2.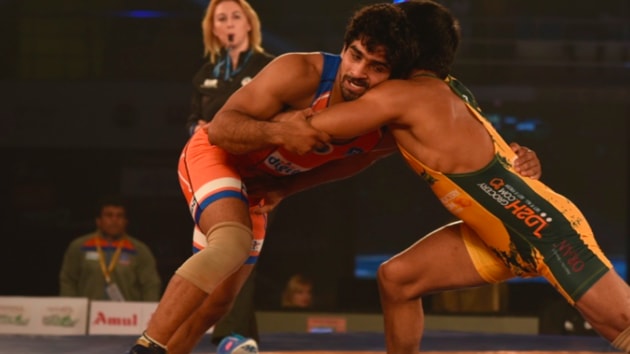 Jaipur secured an early advantage by winning the toss and decided to block the 65 kg Men's category. Haryana, in turn, blocked the 48 kg Women's category resulting in Jaipur's Ritu Phogat having to sit out for the tie.
The opening bout of the evening went in favour of Haryana as Russian wrestler Magomed Kurbanaliev registered a comprehensive 12-0 win over Jaipur's Vinod Kumar Omprakash in the 70 kg Men's category. Kurbanaliev came onto the mat with resolve and started scoring points immediately with leg tackles and a push out.
He continued to extend his lead in the second round, as Vinod faced an uphill task of bridging the deficit. Haryana. who are yet to lose a single match in PWL 2, began proceedings with a winning start.
Jaipur captain Jenny Fransson drew level with Haryana by defeating Kiran 3-0 in the 75 kg Women's category. Jenny, leading the Jaipur side in place of Elizbar Odikadze, did a commendable job on the mat as Haryana's Kiran was unable to withstand the pressure applied on her by the 2016 Olympic bronze medallist.
Haryana bounced back with an action packed third bout that saw captain Abdusalam Gadisov triumph over Jaipur's Rubaljit Singh Rangi by virtue of Technical Superiority in the 97 kg Men's heavyweight category. Gadisov, who has remained unbeaten in the tournament so far, continued his dominance on the mat with the help of exuberant maneuvres, starting with flipping over Rubaljit and taking him down from a standing position, a move that is not often seen in the 97 kg category.
Gadisov was able to take down Rubaljit frequently with strong leg tackles and double leg holds even as the Jaipur wrestler managed to become the first to score points against Gadisov in PWL 2. Gadisov dealt the final blow with a powerful takedown and followed it up with three rollovers, from which Rubaljit was unable to recover, as Haryana won the bout 18-2.
Jaipur's regular captain Elizbar Odikadze was ruled out of the tie after he sustained an injury following which Rubaljit Singh Rangi was named as his replacement.
Georgian grappler Jakob Makarashvili from the Jaipur camp evened things up with a 3-0 victory over Haryana's Sumit Sehrawat in the 74 kg Men's category. Sumit had a trying time on the mat, as the more experienced Makarashvili was able to effect a clear takedown and held on to his lead, as Jaipur levelled with Haryana 2-2 in the tie.
Haryana Hammers sent Swedish grappler and 2016 Olympics Bronze medalist Sofia Mattsson on the mat after this, as she took on Jaipur Ninjas' Betzabeth Arguello in the 53 kg Women's category. Mattsson opened her account early and kept accumulating points at a rapid pace as she took down Arguello and rolled her over with a double leg hold, also trying to pin her in the process. Not to be outdone, Arguello provided some stiff resistance from her side, but could not match her opponent's prowess as Mattsson won the bout 11-2 and Haryana went 3-2 up against Jaipur.
The penultimate bout of the evening was contested between Haryana's Sandeep Tomar and Jaipur's Utkarsh Kale in the 57 kg Men's category. Utkarsh Kale fought with determination and purpose in Jaipur's crucial bout and managed to take down Sandeep Tomar in the latter stages of the second round to get the lead. However, the more experienced Sandeep Tomar had the final say as he took down Utkarsh Kale with a decisive leg hold and followed it up with a push out to win 5-3. With this victory, Haryana Hammers clinched the tie with an unassailable 4-2 lead.