Wrestling Federation of India concerned about Sushil Kumar's poor form, puts two on standby
With three weeks to go for the Asian Games, the WFI has put two grapplers---Parveen Rana and Jitendra Kumar—as standby for Sushil Kumar.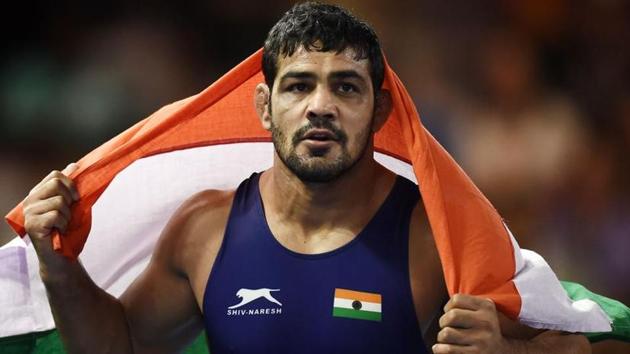 Updated on Aug 01, 2018 11:26 AM IST
Concerned about star wrestler Sushil Kumar's recent performance, the Wrestling Federation of India (WFI) has put two grapplers on standby in the 74kg category for the Asian Games, starting August 18 at Jakarta/Palembang.
Away from the national camp, Sushil has been preparing in Georgia in short stints. He competed in Tbilisi Grand Prix there from July 3-5 and lost in the first round to Poland's Andrzej Piotr Sokalski 4-8. The WFI, which exempted Sushil from qualification trials as he won gold in the Commonwealth Games, is worried about his form.
With three weeks to go for the quadrennial showpiece event, the WFI has put two grapplers---Parveen Rana and Jitendra Kumar—as standby for Sushil.
"The feedback we get gives an impression that his training is going on well, but then he tamely lost in the qualification round and it doesn't augur well. Since we have given him exemption from the national camp, he is training on his own. Hence we don't have day-to-day assessment of his performance," said an official of the WFI.
"In case he drops out at the eleventh hour due to some reason, we have a standby. We have also sent their entries," the official added.
In February, Sushil had withdrawn from the Asian Championships held in Kyrgyzstan, at the last moment due to knee injury. He was replaced by Rana. He, however, went on to win gold win 74kg title in the Commonwealth Games.
ALSO READ | 'Reluctant' Virender Sehwag only joined NADA panel on RS Rathore's request
Sushil is scheduled to have his final round of preparation in Georgia from August 3 for 10 days. The national team will leave for Jakarta on August 14 while Sushil will directly reach the venue from Georgia.
The double Olympic medallist won a bronze medal in 2006 Doha Asian Games but did not compete in 2010 and 2014 Games. Sushil was among four top grapplers given exemption from selection trials held in the second week of June at Sonepat, Haryana. Other three were Rio Olympics bronze medalist Sakshi Malik (62kg), Bajrang Punia (65kg) and Vinesh Phogat (52kg).
Former national coach and Olympian Gian Singh said competition at the Asian Games will be tougher that CWG. "Winning a medal in CWG is like podium finish in national championships, but the real test is Asian Games where a slight error can cost a medal," he said.
On the women's side, Sakshi Malik's poor form is also a concern. "Despite good training she isn't able to transform into match-winning performance," said WFI official. "It will be challenging task in Indonesia as Japanese side wouldn't give an inch."
The final two-week preparation camp form national squad will commence from Wednesday.
Close Story