More than a silver lining: Yogeshwar's 2012 Games medal may turn to gold
Yogeshwar Dutt is likely to get the gold medal in the 60kg category for the London Olympics after sources said the winner in 2012, Azerbaijan's Toghrul Asgarov, had been caught in the dope net.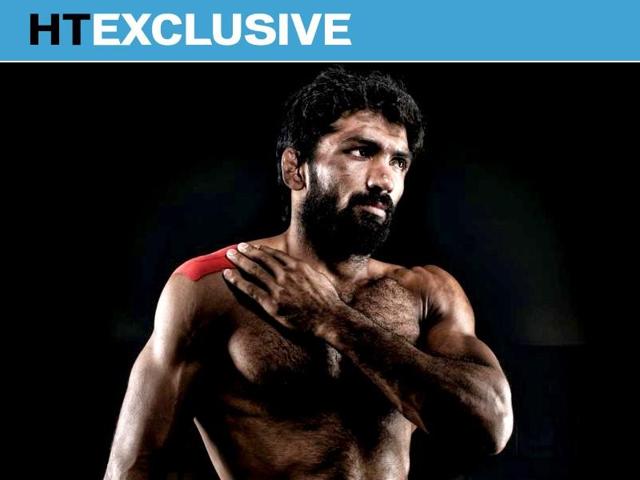 Updated on Sep 03, 2016 01:27 AM IST
Wrestler Yogeshwar Dutt could be awarded the gold medal after the winner in his 60kg event at the 2012 London Olympics failed a dope test, Hindustan Times learnt on Friday, days after the grappler's bronze was upgraded to silver in identical fashion.
A source said the World Anti-Doping Agency (WADA) is yet to officially communicate the news of gold medallist Toghrul Asgarov's positive dope test to the United World Wrestling (UWW), the governing body of Olympic wrestling.
If confirmed, Yogeshwar will become the second Indian individual gold medallist after shooter Abhinav Bindra.
"If I go on to win gold it will be a great thing for the nation. But quite a few things have to fall in place first for that to happen," Yogeshwar told HT.
Read | Technical numbers favour Yogeshwar for gold, but for grey area in rules: Experts
At London, Yogeshwar was ranked higher between the two bronze medallists, considering his dominance and points won in the medal bout. His sample, taken during the 2012 Games, will also be tested before he is upgraded to gold.
The development comes in the midst of the International Olympic Committee (IOC) re-testing samples collected from the Beijing and London Olympics using enhanced techniques to expose doping scandals.
Under WADA's revised norms, samples taken for dope tests from international tournaments are now being stored in deep freeze up to 10 years in order to allow the use of advanced technology, available with the passage of time, to catch dope cheats to ensure that "the clean athletes get justice even if it comes a bit late".
Dutt was awarded the silver after Besik Kudukhov, who died in a car crash in 2013, tested positive for a banned substance earlier.
The Haryana grappler had defeated Franklin Gomez of Puerto Rico, Masoud Esmaeilpour of Iran and Ri Jong-myong of North Korea in the repechage rounds to claim bronze at the 2012 Olympics.
A top Wrestling Federation of India (WFI) official said he was unaware of the development.
Dutt had a poor run at the recently-concluded Rio Olympics, crashing out in the first round against Ganzorigiina Mandakhnaran of Mongolia.
On Tuesday, when the news of the upgrade of his bronze medal to silver came in, Dutt said he did not know whether to celebrate or be sad.
On Wednesday, Dutt said the medal should stay with the family of the deceased wrestler.
"Besik Kudukhov was a great wrestler. It is sad that the dope test result has come after his death. I respect him as a fellow wrestler," he tweeted in Hindi.
Read: Yogeshwar Dutt's medal upgrade: 10 things to know about WADA's 'legacy test'
Close Story
Personalise your news feed. Follow trending topics