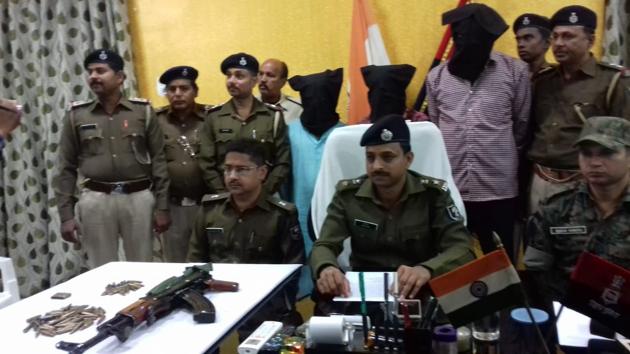 AK-47 smuggling racket in Bihar's Munger getting bigger than police had anticipated
Army jawans, police constable, teachers, COD store keeper and retired armourer, his family are among 35 people arrested so far in one of India's biggest arms smuggling racket that was busted on August 29; Munger has emerged as hub of arms smuggling in country
Hindustan Times, Patna | By B Vijay Murty
, Patna
UPDATED ON DEC 10, 2018 11:06 AM IST
Two army jawans, storekeeper of the Central Ordinance Depot (COD), Jabalpur, a retired armourer, a Bihar police constable, two Bihar government school teachers and at least a dozen arms smugglers and middlemen are among the 35 people who have been arrested since August 29 after Bihar police exposed one of India's biggest smuggling racket of the gas operated, Russian made AK 47 assault rifles meant for use only by armed forces.
The National Investigation Agency (NIA) is also investigating the case in view of its sensitivity and wider ramifications. And according to NIA sources, the racketeers have smuggled more than 100 AK 47s rifles from the COD, Jabalpur and sold them to arms smugglers in Bihar's Munger district. Bihar police, however, in its finding so far puts the figure to around 70-80. In all, 21 of those smuggled rifles have been recovered so far while police and NIA are hopeful of recovering more shortly.
"The racket is far bigger than we had anticipated. And it's getting further bigger by the day as more people are being arrested and the smuggled arms are being recovered," said Munger SP Babu Ram, the man, who has relentless worked hard over the last three months thoroughly investigating the case and following it with big achievements.
He said that Munger has become the most notorious place in India for smuggling of all sorts of weapons including the sophisticated AK 47 rifles. "It has got a market for firearms and their sale and purchase has remained easy here since decades. We have found out that besides, COD, Jabalpur, the local arms smugglers have strong links with their counterparts in the northeast from where they have been getting steady and regular supply of firearms of different makes. We are probing their international links if any," he said.
On Saturday, police arrested one Md Mahzaab alias Aftab from Barda village along with two pistols and several live cartridges, thereby indicating that locals trade in all kinds of weaponry.
Last week, the Munger police wrote to the economic office wing of Bihar police seeking permission to confiscate properties of the arrested arms smugglers, who have allegedly amassed huge wealth through the illegal and 'dangerous' means. SP said while they are done with collecting details of properties of the two kingpins, Irfan and Neyazul, officers were at work gathering details of properties of other smugglers, six of who are from one family of Mirzapur Bardha village. "Once we are done with gathering details, we will involve Enforcement Directorate (ED) take over," SP said.
HT team had travelled to Mirzapur Bardha last month and reported how the progressive looking village with multi-storey, upscale houses, barely seven kilometers from Munger town, has emerged as the nucleus of a thriving industry of manufacturing, assembling, repairing and selling of all kinds of weapons, from small arms to AK-47 and AK 56 assault rifles
Many residents of this village are in defence services and work as teachers. But police say the lure of easy money has drawn many of them to the dangerous avocation of selling death. Since the expose, police have been constantly raiding this village for leads, arrests and recovery of arms forcing many of those involved in the trade to flee.
"We have no complaints against the police raids. They are doing their duties. Bardha is a peace loving village. Few local men, mostly related to a family involved in the illegal trade, have defamed us," said local RJD leader, Md Pervez.
The special task force formed by Munger SP to dig deeper into the case has found that the smuggled arms have been sold mostly to criminals across Bihar, coal mafias of Jharkhand, Maoist insurgents and their splinter groups. During interrogation, the arms smugglers have told police that an AK-47 they bought for Rs. 5 lakh would fetch them more than double the amount.
Dharambir Yadav, a constable posted at the Patna police lines, is the latest accused arrested in connection with the arms smuggling. He was arrested last week for brokering in the sale of an AK-47 rifle between the supplier, Manzar and the buyer, Bhagaee Yadav, a notorious gangster of Khagaria.
The lid on the 'big racket' was blown off on August 29 following the arrest of arms smuggler, Md Irfan with three AK-47 rifles from Jamalpur in Munger. During interrogations, he spilled the beans and revealed how a former armourer of COD, Jabalpur, Purshottam Lal Rajak in nexus with the COD storekeeper, Suresh Thakur smuggled the weapons out and sold them the smugglers in Munger.
Rajak's son, Shivendra and wife, Chandravati, helped him in transporting the sophisticated weapons to Munger via rail and road.
"Our officers are doing their best. Their quick response to the leads is helping them recover the smuggled arms from points where have been delivered," DIG Jitendra Mishra said.
Close