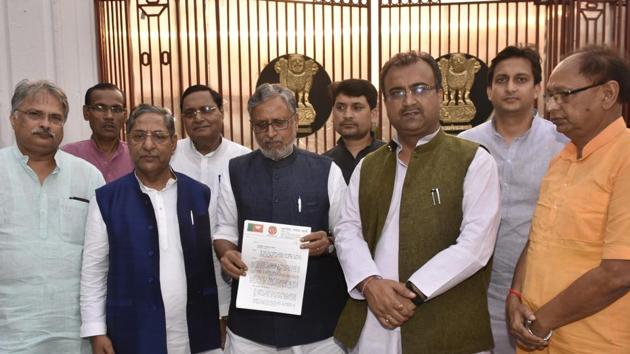 BJP demands criminal case against Lalu Prasad
BJP appealed to Centre to seek report from Bihar government as the expose vindicated the party's stand that the government in state was being run on the diktat of criminals
UPDATED ON MAY 08, 2017 09:26 AM IST
PATNA While demanding institution of a criminal case against RJD president Lalu Prasad for interacting with incarcerated mafia don Md Shahabuddin, senior BJP leader Sushil Kumar Modi on Saturday appealed to the Centre to seek a report from the Bihar government regarding the prevailing law and order situation in the state.
Reacting to the startling expose made by a TV channel pertaining to Lalu's direct telephonic conversation with imprisoned Shahabuddin, Modi asked the Nitish Kumar government to not only register a case against the RJD chief, but also move the Supreme Court for cancellation of his bail.
He warned that BJP would launch a statewide agitation if the state government failed to file a criminal case against Lalu, whose party is a major partner of the ruling coalition in the state.
Following the expose, a BJP delegation led by Modi submitted a memorandum to Bihar governor Ram Nath Kovind urging him to seek a report in this connection from the director general of police.
Talking to newsmen here, Modi said during his coming visit to New Delhi, he would meet Union home minister Rajnath Singh and apprise him about the situation.
He said the expose vindicated the BJP's stand that the government in Bihar was being run on the diktat of criminals. "As a result of the ensuing nexus between criminals and politicians, anti-social elements have a field day in Bihar," he claimed.
Accusing Lalu of taking instructions from the don in running the government, the BJP leader claimed that 60% district magistrates of the state were taking orders directly from the RJD chief. Alleging that CM Nitish Kumar, who was dependent on Lalu for remaining in power, had no option but to buckle under the pressure of criminals. "Now it is to be seen whether 'sushasan babu (read Nitish Kumar) acts against the RJD president or surrenders before the criminals," he wondered.
Modi said the telephonic conversation between Lalu and the incarcerated don made it amply clear that the RJD president was providing protection to criminals. "Now it is beyond doubt that Shahabuddin was running a parallel government in the state," he added.
Former Bihar BJP president Mangal Pandey, who was also present at the press conference, said now it was beyond doubt that the Grand Alliance government was being run at the mercy of criminals.
"From behind the bars, Shahabuddin was influencing transfers and postings of police and administrative officials," said Pandey, who hails from Siwan district.
Among other leading BJP leaders, newly appointed secretary of the party Rituraj Sinha was also present at the press meet.
OPPN OVERDRIVE BJP appeals to Centre to seek report from Bihar government as the expose vindicated the BJP's stand that the government in Bihar was being run on the diktat of criminals
Close