Forty hurt as police cane-charge rampaging Magadh varsity students at Bodh Gaya
Published on Jul 05, 2017 07:59 PM IST
Six policemen were also injured in a melee that ensued when protestors tried to disrupt a meeting of the university's Senate, in protest against a recent MU order to disaffiliate 58 colleges of the varsity.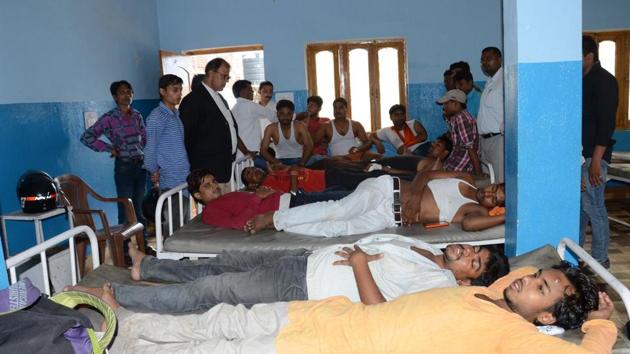 About 40 protesting students and over a dozen representatives of the disaffiliated degree colleges of Bodh Gaya headquartered Magadh University were injured, some of them seriously, when the police cane-charged them on the university campus, here on Wednesday.
Six policemen also sustained injuries in the melee that ensued when the protestors tried to disrupt a meeting of the university's Senate meeting of Magadh University, organised to discuss the university's budget for the current financial year, among other matters.
The police resorted to cane charge after students and representatives of the disaffiliated colleges went on the rampage and started pelting stones on the vehicles of the administration and the police. They were demanding withdrawal of the MU administration's recent decision to disaffiliate 58 colleges.
Trouble began when vice-chancellor Dr Qamar Ahsan reached the Radhakrishnan auditorium at the university headquarters, along with other top brass of the university, for the Senata meeting, early afternoon, on Wednesday.
Students owing allegiance to the ABVP, and hundreds of representatives of the disaffiliated colleges, already assembled there, started raising slogans against the university administration. The protestors then vent their ire on police vehicles parked outside the meeting venue.
They also pelted stones on the university buildings and smashed the windowpanes. The police and the security men of the university, however, brought the situation under control after an hour and the vice-chancellor was escorted to the meeting venue.
Twelve injured students were later admitted to a private nursing home while the remaining injured persons was shifted to the Anugrah Narayan medical college and hospital (ANMCH) at Gaya, for treatment on their injuries.
Among those undergoing treatment at ANMCH was the patron of the disaffiliated colleges body and former MLA Shiv Bachan Yadav, who was stated to be "seriously injured" in the melee.
Amit Kumar, a research scholar in Magadh University and member of the ABVP, who was undergoing treatment with 11 others at a private nursing home in Gaya, claimed 'hired goons' of the university officials had resorted to vandalism and thrown stones on the police party "to defame the students".
"We were peacefully registering our protest to mount pressure on the Senate to withdraw the disaffiliation notice of 58 colleges in the interest of the students. We never resorted to stone-pelting", claimed Kumar. He said the ABVP would further intensify the agitation from Thursday.
Close Story
Personalise your news feed. Follow trending topics