Pro Kabaddi League 2018, Puneri Paltan vs UP Yoddha as it happened: Yoddha beat Paltan 29-33
Oct 24, 2018 11:52 PM IST
UP Yoddha kept cool calm and collected and managed to beat Puneri Paltan 29-23 in an evenly contested Pro Kabaddi league match on Wednesday. Prashanth Kumar Rai and Shrikant Jadhav combined to score 14 raid points to lead UP Yoddha to another victory. At crucial moments of the match, UP Yoddha held their nerve as they beat the home team in front of a boisterous crowd. Leading raider of the season Nitin Tomar had a quiet match by his high standards as he scored just five points. Catch all the updates as it happened of the Pro Kabaddi League 2018 match between Puneri Paltan and UP Yoddha through our blog.
22:16 hrs IST
Thanks for joining us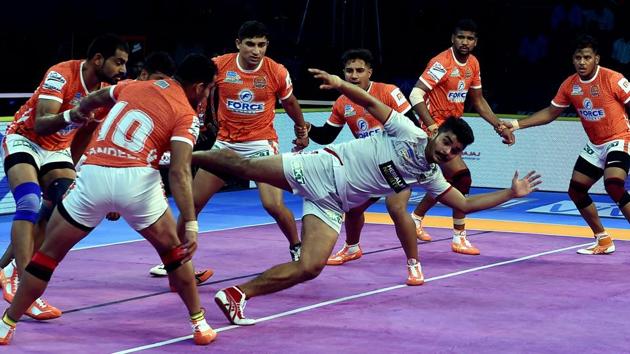 That's it! Thanks for joining us.
22:15 hrs IST
Yoddha win
Full time and UP Yoddha prove too good for the Puneri Paltan and cause an upset. Yoddha win 29-23.
22:07 hrs IST
UP almost there
Less than two minutes to go and UP have a lead which should prove too much for Pune. Paltan need a minor miracle.
22:00 hrs IST
Huge moments
Last few moments of the match have gone against Puneri Paltan and as things stand they have much to do to get this home. Yoddha big favourites.
21:57 hrs IST
10 minutes to go
Two points the difference between the two sides. and 10 minutes to. This could go either way. Game is there for any daredevil in the two teams.
21:52 hrs IST
Paltan being silly
Some poor decisions are handing out points to UP Yoddha.
21:48 hrs IST
Yoddha begin second half well
UP Yoddha have extended the second half well as well. Paltan must dig deep. 17-13 to UP Currently
21:42 hrs IST
Half time
Half time and UP Yoddha lead
21:32 hrs IST
Big upset if result stays the same
It will be a big upset should Yoddha pull it off! Remember going into the match, Puneri Paltan were top of Zone A while UP Yoddha were placed fifth in Zone B.
21:29 hrs IST
Raids making the difference
8 Raid points to Yoddha and 7 to Paltan. 9-8 Yoddha lead.
21:25 hrs IST
Yoddha with early initiative
Yoddha have the early initiative in the match!! Thanks to their deadly duo Prashanth and Shrikanth Jadhav. 7 points between them.
21:21 hrs IST
Quiet start
A quiet start by both teams. Shrikanth Jadhav has begun well for the Yoddhas.
21:15 hrs IST
Toss!!
Puneri Paltan win the toss & select the Choice of court
21:03 hrs IST
Standings
Puneri Paltan are top of Zone A while UP Yoddha are placed fifth in Zone B.
20:53 hrs IST
Hello and Welcome
Hello and Welcome to Hindustan Times' live blog for the match between Puneri Paltan and UP Yoddha.