BRTS buses yet to find a lane to ply on five years after its launch in Pimpri Chinchwad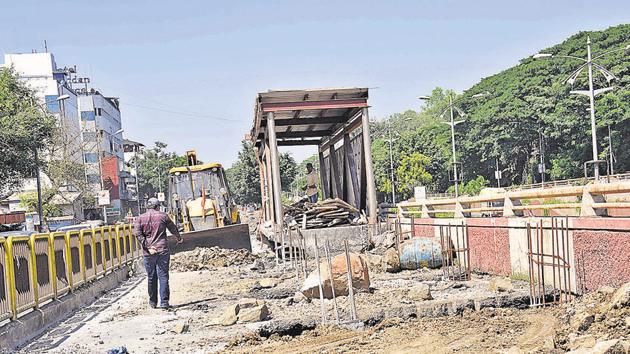 Updated on Oct 25, 2017 04:49 PM IST
Hindustan Times, Pune | By Shrinivas Deshpande
, Pune
Though PCMC commissioner Shravan Hardikar expressed hope that the BRTS service will be operationalised from October 31, mayor Nitin Kalje said the bus operations would start only after adequate safety measures were in place.
In fact, PCMC had to complete the 12.5-km BRTS lane from Dapodi to Nigdi in 2012 - the same year it started - under Jawaharlal Nehru National Urban Renewal Mission (JNNURM). The civic body completed widening of the 12-km stretch of highway from Nigdi to Dapodi under the JNNURM in 2012. However, the delay was largely for erecting bus stops and BRTS lane.
In a recent interview, Hardikar told Hindustan Times that he is committed to operationalising the BRTS route from Dapodi to Nigdi by October 31. However, on the ground level, the work was incomplete at many places with barricades bent and not in good condition at Kharalwadi, Morwadi, Kalbhornagar and Khandoba Mal.
When asked about the delay in completion of project, Kalje said, "It is true that there has been a delay on completing the BRTS stretch. But, its mainly because the work for Metro rail is also going on at the same route and workers are finding it difficult to complete the safety work as well as erecting bus stops."
Vijay Bhojane, deputy engineer and spokesperson of BRT department said, "Three contractors, including BVG, SS Sathe and Omkar group, had completed around 80% construction work of 36 bus stations. However, some activists approached court on the safety of the BRTS route, thus delaying it further. Now, with the help of IIT Bombay, we have sorted out safety issues."
According to Bhojane, the civic body spent ₹1.7 crore on installing automatic doors, electrical fittings and signs at bus stations for safety concerns.
Activists said they had filed a Public Interest Litigation (PIL) in 2014 on the grounds that PCMC was not following safety measures while starting the BRT bus service. The court, however, has ordered PCMC to start the bus service only after taking adequate safety measures.
Seema Salve, standing committee chairperson, said, "Project was delayed because of safety concerns. Considering people's safety, the municipal corporation appointed IIT Bombay last year to conduct a safety audit. The report recommended several road safety measures. Most of the work related to dedicated bus lanes with barricades has been completed. This time we had taken all safety precautions."
There were 14 bus stations, constructed by BVG, which were not following security standards, hence BRT department took technical help from IIT Bombay, who suggested 'speed tables' which will help also pedestrians. Also, IIT Bombay suggested separate signals, motor vehicle lanes and separate signals for safety features.
Close Story