Chris Gayle bats for women's cricket, says awareness is key for growth of sport
May 22, 2018 11:34 PM IST
Gayle was in the city as a part of Rohan Pate's initiative to commemorate the women's challenge exhibition match of IPL 2018. 
Chris Gayle, the West Indian batsman, on Tuesday, opened up about the low number of women playing cricket in the country and said that more awareness needs to be created about women's cricket in order to ensure that the game becomes popular.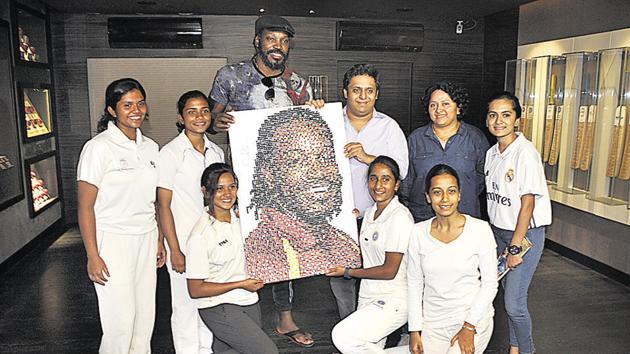 Gayle, who is known for his aggressive game and massive sixes, was in Pune as a part of Rohan Pate's initiative to commemorate the women's challenge exhibition match of Indian Premier League (IPL) 2018.
Girl cricketers from across the city were given an opportunity to meet Gayle at the Blades of Glory cricket museum in Sahakarnagar. The girls were also treated to a few cricketing lessons Gayle when he taught them the grip technique.
During the interactive session, he faced a googly on the first ball, when a girl asked him if it is okay to have a relationship. Gayle, unperturbed by the question, said "It's good to have a relationship. Many of the cricketers are married and are doing well and I feel that relationships help you to stay focussed. However, I would suggest going slowly and doing what you feel right."
He also said that Indian cricket players should consider playing in leagues other than the IPL, considering how strong the team is and how difficult it is for players to find a place in the final 11.
During the visit, Gayle handed over his special bat and his Kings XI Punjab team jersey to Rohan Pate, owner, Blades of Glory cricket museum. The two items will be added to the collection at the museum.
Talking about football and the upcoming FIFA World Cup, Gayle said that he would love to see his favourite player, Christiano Ronaldo, lifting the trophy this year.
"This is possibly his last world cup and I wish him all the best. However, if you asked about my favourite team, then it is Brazil and Portugal comes second," he said.
Traffic plays spoilsport
Gayle has visited Pune a few times and when asked what he liked about the city, he was quick to say that the city is nice with pleasant weather and a good crowd. Traffic in the city though, did little to impress as the West Indian called it horrible. What should be a 45 minute ride from his hotel to the cricket stadium often takes more than hour, according to Gayle.