Girls in Pune take note: #WeToo committee here to extend help
Female students can contact members of the committee on 7038443776 and seek redressal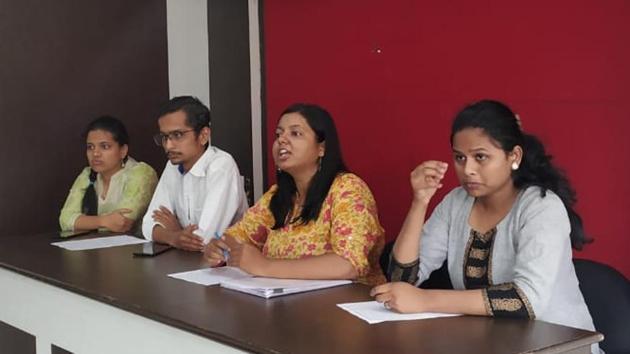 Updated on Oct 19, 2018 03:05 PM IST
In response to the #MeToo allegations that have surfaced regarding sexual harassment in work spaces, college students of the city have started a 'WeToo' committee to raise their voices against sexual harassment.
While addressing a press conference on Wednesday, Kalyani Mangave, student of Marathwada Mitra Mandal Shankarrao Chavan Law College said,"A lot of girls are too scared to report instances and therefore abusers get away with it. So, as a solution we have formed the 'WeToo' student committee consisting of seven girls and four boys from different city colleges. Anyone can call us and the committee will give legal aid and also mental support for the victims from all over Maharashtra."
Nitin Jadhav, student of Fergusson college said,"We have received many calls from female students regarding sexual harassment. Most of them did not know about the Vishakha committee and other legal procedures to be followed. Through this WeToo committee, we are trying to establish a platform where people can come forward and talk about the same."
Female students can contact members of the committee on 7038443776 and seek redressal. The committee will advice the complainant on how to proceed with the legal process.The committee assures anonymity to all victims who approach them.
As of now, Mangave and Jadhav along with Sharmila Yewale from Fergusson college; Sarika Aakhade from Karve Institute of Social Science; Mrudgandha Dixit from Ranade Institute of Journalism; Deepak Chatap from ILS Law college; Swati Kamble from Fergusson college; Adarsh Patil from ILS Law college; Bhushan Raut from MMM Shankarrao Chavan Law college and Mayur Dumane from Ranade Institute of Journalism make up the committee.
Close Story