Maha SSC Class 10 results: Bonus marks spike students' percentage
While some students who participate in extracurricular activities get 10 to 25 marks as bonus, others who focus only on academics stand to lose by getting lower grades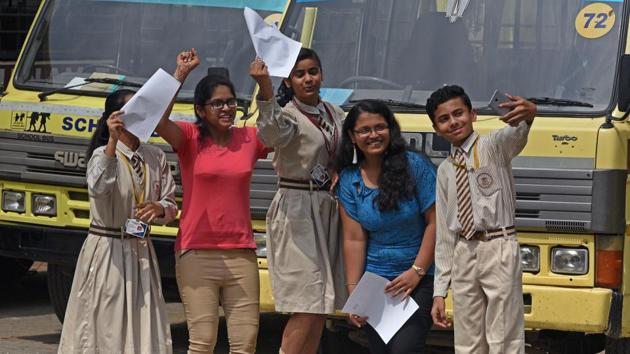 Updated on Jun 08, 2018 09:14 PM IST
Hindustan Times, Pune |
Ananya Barua
Even with a score of 99 per cent in Class 10 exams of secondary school certificate (SSC) board, 15-year-old Advay Joshi, of DES (Deccan Education Society) Secondary School failed to make it to the toppers list. He missed the spot by one per cent as four students in the city scored a perfect 100 per cent this year. A total of 125 students have scored the perfect 100 per cent in the entire state of Maharashtra.
The state board's decision to give SSC students an opportunity to get extra marks by excelling in performing arts, fine arts and sports, is the reason behind this perfect score of 100 per cent. The state board took the decision in 2017 to encourage students to participate in extracurricular activities in addition to gaining academic knowledge. Though initially taken to encourage national and international athletes, the decision was later expanded to other activities also. According to the rule, students get between 10 to 25 marks for engaging in extracurricular activities.
Joshi who excelled in playing on violin got an extra 2 per cent under the scheme. "It is definitely a boost for students who have managed to keep their passion alive inspite of academic pressures. This rule allows us to get holistic education."
A total of 3,859 students got extra marks under sports quota. While 1,61,021 students got extra marks for their drawing skills, 1,447 students got extra marks for classical dance. This rule has led many students to score above 100 per cent this year. A total of 63,331 students scored above 90 per cent in the state this year, while in Pune the figures stood at 11,961. In Latur, as many as 70 students got the perfect score of 100 per cent.
While a few like Joshi managed to elevate their scores with these extra marks, many did not and complained about the unnecessary pressure and competition.
"I did not get any bonus scores because my sole concentration was on academics. While I am not critical of anyone getting ncouragement or extra credits for their extracurricular activities, the problem arises when these marks are be pitted against lower scores that are based on academics," said Sakshi Padwal of Laxmanrao Apte Prashala, near Deccan Gymkhana. Although she had topped the school with 95.40% without bonus marks being added, she was still unsure about her future.
"I want to pursue science and eventually do a medical course. Can you imagine us competing with students who have scored 100 per cent? And, all this even when many have scored more in academics without bonus marks. Why not introduce a credit sytem that does not affect the overall percentage," she added.
Teresa David, principal of Laxmanrao Apte Prashala feels that though the initiative is a positive one, the consequences could have adverse effect of students. " On one hand, this rule encourages parents to support the interests of their children, while on the other hand, it could have a depressing turn. With students scoring as high as 98 and 99 per cent, this gush of perfect scorers will make it more difficult for students to compete. It will also spike the cut-offs which is truly unfair."
Close Story
Personalise your news feed. Follow trending topics