Pune police suspend 300 driving licences for mobile phone offences
First time traffic police suspended licences for use of mobile phones while driving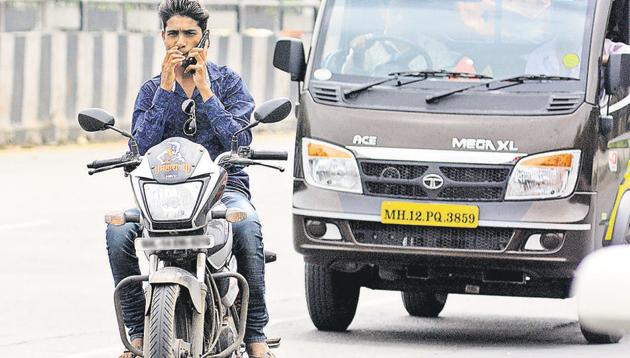 Updated on Jul 04, 2018 03:38 PM IST
Hindustan Times, Pune | By Nadeem Inamdar
The city traffic has cancelled the driving licences of 300 people in the last four months and has recovered a whopping ₹57.67 lakh as fine for speaking on the mobile phone while driving.
The city police have been conducting a special drive to spread literacy about traffic rules, specifically about talking on mobile phones while driving.
This is the first time that the city traffic police have cancelled driving licences of 300 people. The increasing number of traffic violators registered in the city pushed the traffic police department to conduct a road safety drive between April 23 to May 6 and also, to initiate strict action against offenders.
The traffic police have also collected fine from first time offenders, apart from cancelling their licences . A total of 28,837 cases have been registered from January 1 to June 30, 2018, against people talking over mobile phone while driving.
According to the data released by city traffic police department, a fine of ₹16.13 lakh has been recovered out of the 8,066 cases registered between January 1 and June 30, 2017. A total of
29,035 cases have been registered in the whole year and ₹58.06 has been collected from the offenders. DCP ( Traffic ) Ashok Morale said that the ill effects of talking on mobile phones while driving were far-reaching and it is essential for citizens to become aware about the danger involved.
"There is a provision in the Central Motor Vehicles Rules,
1989 apart from the Rajasthan high court decision, that when an offender is caught, we can confiscate the licence and deposit it with the regional transport office (RTO) for suspension. A licence will be suspended for a maximum period of three months and if the violator is nabbed for the second time, the licence will be suspended again. In case of repeated offenders , the RTO can even decide on permanent revocation of the driving licence based on the inputs by the traffic branch. In the last four months, 300 licences have been cancelled," said Ashok Morale.
The Pune traffic police have stepped up vigil and is confiscating the driving licence of any driver who is found talking on the mobile phones while driving. "We will seize the licence and send it to RTO office, which is the licensing authority. Thereafter, the RTO office will issue a notice and the licence will be suspended for three months,'' he added.
Close Story