Pune's IISER and US varsity connect to ensure your smartphone battery will never blow up again
Apr 05, 2018 05:11 PM IST
Research to also ensure longer battery life, reducing the need to charge at regular intervals
A team of computational chemists at the Indian Institute of Science Education and Research (IISER), Pune, have developed alternative materials that will help lithium-ion (li-ion) batteries to withstand the harshest of temperatures. The development is part of a research initiated at IISER Pune, which is looking to make li-ion batteries more efficient, stable, cost-effective and sustainable than its predecessors.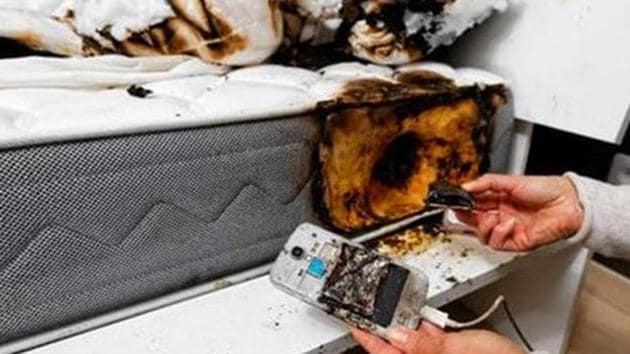 "One of the main improvements required in commercially available li-ion batteries is to make them safer, more compact and stable. The current batteries are made with a flammable organic medium which can result in explosions, fires, or damage to the battery compartment. Additionally, battery function could also be affected at extreme temperatures. These issues pose a significant challenge to energy conversion and storage, and through our research we are trying to minimise the risks and provide an alternative," said scientist Arun Venkatnathan, who along with a PhD student, have collaborated with a team of researchers in Temple University Philadelphia (TU), USA ,for the project. The TU team has two faculty members, Michael Zdilla and Stephanie Wunder, and four research scholars, working to develop special materials that can be used to create these more efficient and stable batteries.
Explaining the mechanism behind a li-ion battery and the potential impact of their research, Venkatnathan said, "While research is being done on several parts of a li-ion battery, we are specifically concentrating on the electrolyte - responsible for the overall working of the battery by conducting ions from one end to the other while charging and discharging (electrolytes are responsible for conducting electricity in a battery). The team from TU has synthesised a new class of soft-solid electrolytes based on the compound Lithium chloride, Dimethylformamide (LiCl.DMF). This compound is found to exhibit conduction properties comparable to existing electrolytes but with a less volatile medium DMF, which makes these electrolytes much safer to use. Our team, using computational chemistry, will reveal the cause of the high conductivity and the structural complexities of the electrolyte."
"Our cell-phones have li-ion Polymer batteries, and we are trying to find alternative materials to replace the polymer so that it is more efficient and temperature resistant, so that it will not explode or degenerate in extreme temperatures," he added. This would also ensure longer battery life, reducing the need to charge at regular intervals
This research is similar to another one by IISER Pune, in January, where a team of scientists had developed a covalent organic framework to boost the storage capacity of li-ion batteries, doubling the storage of commercially available li-ion batteries.
Funded by National Science Foundation, Camille and Henry Dreyfus Foundation, and DST Nanomission, the recent research has been published in the Journal of Materials Chemistry A, titled as 'Unravelling the structural and dynamical complexity of the equilibrium liquid grain-binding layer in highly conductive organic crystalline electrolytes', authored by Prabhat Prakash, Jordan Aguirre, Megan. M. Van Vliet, Parameswara Rao Chinnam, Dmitriy A. Dikin, Michael J. Zdilla, Stephanie L. Wunder and Arun Venkatnathan.