Telling someone not to burn leaves isn't enough, we need to provide an option, says Pune-based Brown Leaf initiative founder
Hindustan Times, Pune |
Prachi Bari
Oct 24, 2017 04:39 PM IST
Aditi Deodhar, software consultant and also one of the founders of Jeevitnadi – Living River Foundation, speaks to Hindustan Times about her Brown Leaf initiative. 
Aditi Deodhar has a post-graduate degree in Mathematics and is a software consultant. She is also one of the founders of Jeevitnadi – Living River Foundation - working for revival of rivers. HT spoke to Deodhar to know more about her Brown Leaf initiative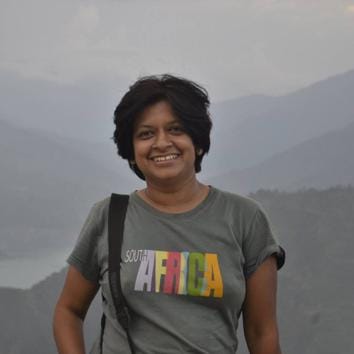 What is Brown Leaf initiative?
I started the Brown Leaf initiative in February 2016. The idea is to prevent burning or dumping of dry leaves and provide ecofriendly alternatives. Brown Leaf is a platform for nature-friendly solutions to manage dry leaves.
How did you come up with this idea?
Leaves are biodegradable and a very good nutrient source for the soil. But, in urban landscape, they are perceived as waste, and hence burnt. The sight of burning leaves always bothered me. I decided to stop this practice in my building. I have a large tree and I instructed the woman who sweeps the building premises not to burn the leaves. Then, one day she came to me and told me it is really a large heap now, what to do with it. But, I was clueless what to do with such a large heap of leaves. I realised, telling somebody not to burn leaves is not enough, we need to provide an option. I started inquiring on WhatsApp groups. A resident, Sujata Naphade, replied to me. She said she can accommodate all the leaves from my tree in her plot. I collected leaves in gunny bags. She came in her car, took five-six gunny bags in first trip. I got curious. What is commonly perceived as waste, was wanted by somebody. Buying that quantity of soil is very expensive and not viable. She created organic matter using dry leaves. She needed dry leaves in large quantity and did not know where to get them.
How did you connect this with eager gardeners?
In Pune city, there is a trend towards 'Grow Your Own Food'. Many people are utilising their terrace to cultivate vegetables, medicinal herbs and other plants. Not all of them have large trees that shed leaves. Getting dry leaves is a major problem for them. This was an eye-opener. There are people who have dry leaves and there are people who want dry leaves. Availability and requirement, both exist in the same city. Necessity is to connect the two. If they both connect, then this major problem is solved. I realised, since we live in such a connected world, thanks to Internet, this can be achieved through an online forum. That is how I decided to create the Brown Leaf website, Facebook page and WhatsApp group, where people with availability and requirement can communicate and help each other.
What is the status of Brown Leaf now?
This year, we have saved more than 5,000 gunny bags of dry leaves from getting burnt and have utilised them in an eco-friendly manner. One and half year down the line, Brown Leaf has become an active and vibrant community, with more than 800 Facebook followers. We use the WhatsApp group for communication regarding availability and requirement of brown leaves.
How wide has it grown?
To generate awareness about dry leaves, I arranged demo visits to people who cultivate vegetable gardens and terrace gardens using dry leaves. People got to witness the results, understand the process and got inputs from the people who were doing it for many years. A society had contacted me to donate their dry leaves, but started a composting project in their society after this demo. Now, they invite people to see their compost project and are encouraging other societies to do the same.