Won't be intimidated by ABVP, says bookseller who's stall was disrupted in Pune university campus
Updated on Nov 29, 2018 03:49 PM IST
On the occasion of 'Constitution Day' on Monday, Hariti Prakashan had put up a book stall outside SPPU's Aniket canteen to sell books at discounted rates relating to the Constitution, politics and social issues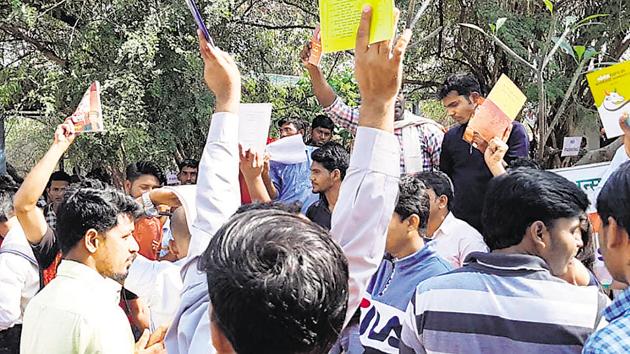 Hindustan Times, Pune |
Prachi Bari
Shyam Ghuge, the proprietor of Hariti Prakashan who's bookstall at the Savitribai Phule Pune University (SPPU) was disrupted by the ABVP (Akhil Bharatiya Vidyarthi Parishad) for allegedly selling "anti-national" books, has said that he won't succumb to such violence and intimidation.
Ghuge said this was not the first time that the ABVP had opposed and threatened them, and they will not succumb to such threats.
On the occasion of 'Constitution Day' on Monday, Hariti Prakashan had put up a book stall outside SPPU's Aniket canteen to sell books at discounted rates relating to the Constitution, politics and social issues. The books on display included JNU Diary by Mithilesh Priyadarshi, 'Prakashvata' by social worker Prakash Amte; books on Bhagat Singh, BR Ambedkar, Buddha, Right to Information, farmers issues and issues concerning Muslims.
While none of the books on display were either banned or proscribed by the government, Abba Kale, head of the ABVP in SPPU said some of the books had "communist viewpoint and anti-national references" which the ABVP did not want to be circulated among students.
"I went to the stall to check if they had permission to sell books. I found several books without any ISDN number nor were they proper books, but more photocopied material like propaganda books which had anti-national reference. We did not want these books to be sold as they could create a negative impact on student's minds," Kale said.
He said the booksellers did not have any written permission and they were trying to distribute books on Communist view points, which led to a scuffle between the students. The police were called to break the scuffle and the book stall was asked to close shop and leave.
Ghuge on the other hand said they had been requested by the English department to put up their book stall for their programme.
"We as Hariti Prakashan with our slogan 'intervention, dialogue and change' believe in producing and circulating progressive literature to spread the reading culture all over Maharashtra. As part of this initiative, we regularly display our own publications as well as other progressive literature at various events and on campus," he said.
According to him, some students from ABVP approached him and asked him to stop selling the books. Soon another group of students from National Students Union of India (NSUI) came forward to oppose the ABVP students from disrupting the exhibition and sale of books. The two student groups clashed leading to intervention by the police.
"We believe in what we are doing. We are spreading progressive reading movement among students and all students as well as student from other progressive organization are supporting us so we are going to continue with our work," Ghuge said.
Personalise your news feed. Follow trending topics