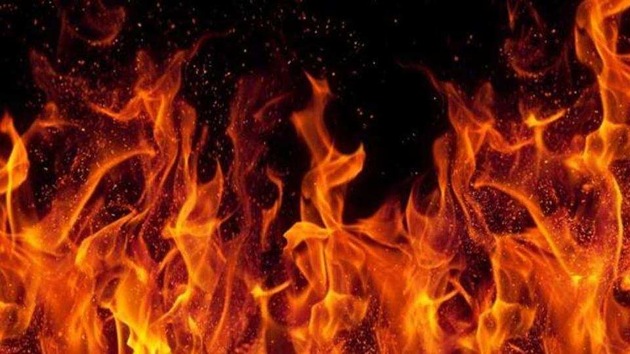 4 year-old's kidnapping: Alleging police harassment, kid's uncle sets himself ablaze outside Tarn Taran DC office
Accuses the SHO of falsely framing his family in the case
Hindustan Times, Tarn Taran | By Anil Sharma
UPDATED ON AUG 23, 2018 12:43 PM IST
Alleging police harassment, a 29-year-old man set himself on fire outside the deputy commissioner (DC)'s office, here on Wednesday.
The victim has been identified as Paramjit Singh of Vaironwal Baweya village, 30 km from the district headquarters. As per information, the victim entered the DC office around 9.30 am, poured petrol on himself and set himself afire.
Few cops who were present on the spot, along with a group of protesting farmers managed to douse the fire, following which he was rushed to Tarn Taran civil hospital, from where the doctors referred him to Amritsar's Guru Nanak Dev Hospital.
The victim has sustained 45% burns, said the doctors.
As per the victim's allegations, station house officer (SHO) of Vaironwal police station, Gurminder Singh, has been harassing his family in relation to his nephew's kidnapping case, who was abducted last week.
The victim's four-year-old nephew (his uncle's grandson), Jashanpreet Singh, was kidnapped on Friday. The police had booked two people, Jarnail Singh and Jabarjit Singh of the same village.
Jashanpreet's father, Jasbir Singh, had told the police that previously, the accused persons had paid ₹3 lakh to a commission agent and a case in this regard was pending in the local court.
"As I am a witness in the case, they wanted me to testify against the commission agent in the court. I did not agree to their demand, following which they kidnapped my son," Jasbir had complained.
However, Tarn Taran police had arrested the duo from Barnala on Sunday and rescued the child.
Victim's brother, Prabhjit Singh, who is a constable with the Punjab Police, said, "The accused had told the police that my family had instructed them to kidnap the child, due to which, Paramjit was in depression."
Earlier, Paramjit Singh, while being admitted to Tarn Taran civil hospital, talked with media and alleged that "My nephew was kidnapped and we ran from pillar to post to find him. People who kidnapped the child have been accusing my elder brother Harpreet Singh for the kidnapping. Due to which, Vaironwal police station SHO has been harassing my family.
He also demanded bribe for finding my nephew, said Paramjit.
The child's father, however, said, "We have good relations with Paramjit and his family. The police is deliberately involving them in the case."
Senior superintendent of police (SSP) Darshan Singh Mann said, "Till now, I have not received any complaint against the SHO."
"The senior police officers have been asked to probe the matter thoroughly. If any police official is found guilty, action will be taken against him as per the law," he said.
Close