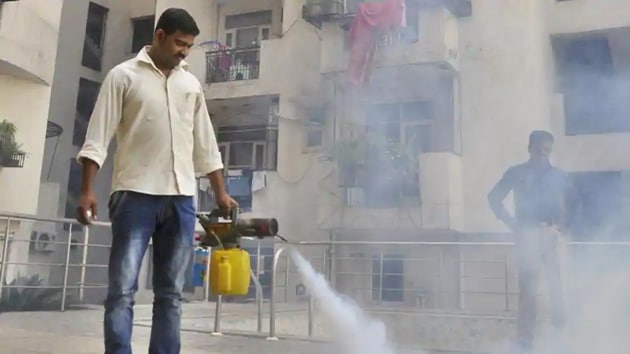 88% dip in dengue cases in Chandigarh this year, experts say strain is less severe this time
Data shows that the city witnessed 94 dengue cases in October this year compared to 746 in the corresponding year same month.
UPDATED ON OCT 29, 2018 01:26 PM IST
The city has seen a major dip in dengue cases with only 189 cases recorded this year, which is far less than the 1,594 cases reported till this time in 2017. Data shared by the UT health department shows that the city witnessed 94 dengue cases in October this year while in 2017, the figure was 746 around this time.
A senior doctor at Postgraduate Institute of Medical Education and Research (PGIMER) said, "Dengue is less severe this year as the virus is less severe this time. There have been cases of dengue haemorrhagic fever and deaths due to dengue in PGIMER, but there numbers are very few as compared to last year."
'Change in strain will lead to rise in cases'
Experts said the strain has been severe for the last four to five years, because of which a majority of the population has developed an immunity against it. "In the region, we have seen a large number of cases in the last four to five years. The strain has not changed with time and the population has become immune to the virus. Also, people have become more aware of the symptoms and are seeking medical help on time and there are better diagnostic facilities," he said.
The doctor said the change in strain will lead to a spurt in cases. Usually, an increase in cases is seen after five to six years.
Dengue is a mosquito-borne viral infection causing severe flu-like illness and in some cases leading to potentially lethal complication. The aedes aegypti mosquito is the main vector that transmits the viruses that cause dengue.
Fever, headache, rashes, body aches and common cold are some of the common symptoms of dengue, but the symptoms vary. "Fever is the commonest symptom of dengue but it does not mean that every patient will have fever. Then many patients have atypical manifestations such as joint pain and gastro problems in children. Then there is dengue encephalitis," the doctor added.
Close