A sanitary pad revolution that never took off in Punjab
Updated on Jan 24, 2018 07:33 PM IST
Low-cost sanitary manufacturing units were set up at Faridkot, Ajnala and Amritsar. They also made adult diapers for elderly persons with medical problems.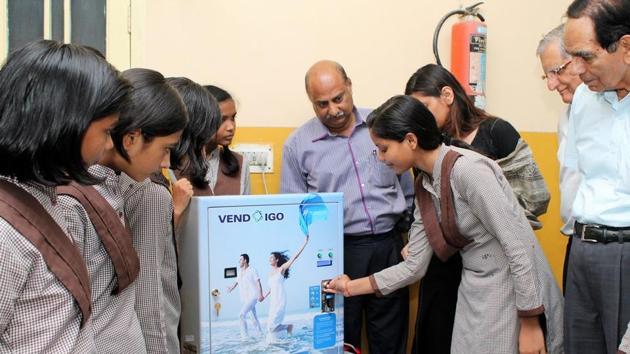 The upcoming Bollywood movie 'PadMan', inspired by the story of a man who made it his mission to provide low-cost sanitary napkins to village women, has once again put the focus on menstrual hygiene, a subject still under wraps in Punjab.
The previous Akali-BJP government did take some steps in this direction under a project called 'Swastha Kanya Yojana', which was supposed to cover every girl from Class 6 to 12, but the proposed budgetary allocation of Rs 24 crore for sanitary napkins was never passed.
NO AWARENESS
"The situation at the ground level is quite grim. Most girl students in Punjab are ignorant about menstrual hygiene," says Geetanjali Seth Bakshi, a CSR (corporate social responsibility) consultant with Ludhiana-based Versatile Enterprises Limited.
The company launched 'Amodini (happy girl child) Menstural Health and Hygiene Programme' on May 28, 2016 following a survey of 15 schools in Ludhiana in which they found that only 20% of the girls know about menstrual cycle, and the importance of maintaining hygiene during these days.
Under the Amodini project, the company installed pad-dispensing machines and incinerators in 14 government schools. They are planning to add ten more machines in Ludhiana in future.
THE PAD MAN
Underlining the importance of government support for this mission, Bakshi says they got a massive push from Ravi Bhagat, at present the chief administrator of Greater Mohali Area Development Authority (GMADA), who launched a drive to provide low-cost napkins to rural and underprivileged women during his stints as deputy commissioner of Ludhiana, Faridkot, and Amritsar.
Bhagat said the aim behind manufacturing sanitary pads and installing napkin-vending machines in schools was to provide affordable napkins to girls, especially from rural areas, who were still using old clothes as napkins. "We wanted to raise the level of hygiene among this section by providing them affordable sanitary napkins, besides reducing absenteeism from schools during these days."
It was decided to provide every girl student three napkins a month without any cost. The task of manufacturing sanitary pads was given to underprivileged women in villages and towns.
Low-cost sanitary manufacturing units were set up at Faridkot, Ajnala and Amritsar. They also made adult diapers for elderly persons with medical problems.
Kirtpreet Kaur, former superintendent of State After-care Home, Amritsar, said girl inmates above 18 years of age were given training for making these napkins. "The project was started about three years back. And 20 girls made around 3000 napkins," says Kaur.
Mohali DC Gurpreet Kaur Sapra is now planning to initiate a similar movement in the district. "I am in touch with director, social security, the SEWA group of Renana Jhabvala and MP Ambika Soni to get some funding for a menstrual hygiene project under which we will provide affordable and biodegradable pads," said Sapra, adding that women from self-help groups will also be trained to make such pads. "We started a sensitisation programme on menstrual health four months ago."
In Ludhiana, the district administration had installed sanitary napkin-vending machines in as many as 28 schools two years ago with an aim to provide basic sanitation facilities to girl students. Six government schools in the district are unable to avail the benefits of these machines as these have been lying defunct for several months. A student can avail the facility in Rs 10. The machine dispenses three sanitary napkins at a time. Private companies under the corporate social responsibility (CSR) activity install the machine.
Meanwhile, Adolescent Reproductive and Sexual Health (ARSH) programme under National Rural Health Mission, the only central government scheme on menstrual health, has failed to take off in Punjab.
Launched 10 years ago, ARSH clinics, which were supposed to be set up in the office of every medical officer in government hospitals, never took off.