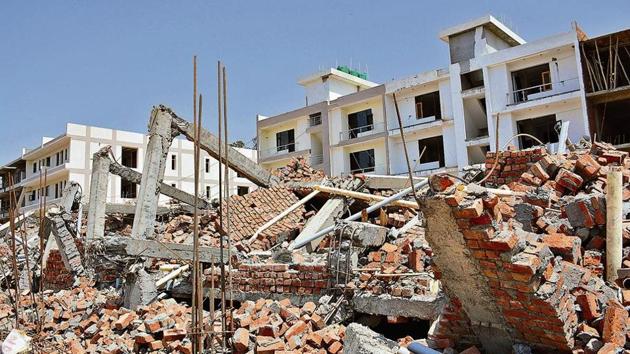 An urban nightmare: The chaos that is Zirakpur
Where developers devour: Ruled by colonisers who also run the municipal council, and officials who have neither the manpower nor the will to implement the basic laws of construction, Zirakpur town has seen 59 new illegal colonies in past few years. At the receiving end are hapless buyers who risk their lives and savings.
UPDATED ON MAY 02, 2018 04:25 PM IST
Rules are made to be broken. This is said to be the mantra of many builders in Zirakpur, where it is common knowledge that you can get away with anything, provided you know the powers that be. A fallout of this cavalier attitude was the collapse of an apartment building in Peer Muchalla last month.
In February this year, Mohali additional deputy commissioner Charan Dev Singh Mann, had pointed to the "connivance" of the civic body with builders as the root cause for the mushrooming of illegal colonies and violations in projects in his annual inspection report on Zirakpur.
A preliminary probe into the Peer Muchalla building collapse revealed that it was being constructed in a colony that had come up illegally eight years ago and was later regularised in 2014. State local bodies minister Navjot Sidhu went on record to say that builders were illegally constructing flats even though at most places the sanction was only for houses.
The then executive officer Surinder Pal Singh and superintending engineer Kuldeep Verma have already been booked in this case along with other erring builders.
Mann told HT that his report, based on ground inspection and official documents shared by Zirakpur MC, was macro in nature. "It is up to the local bodies department to hold a specific inquiry into the builder-MC nexus," he said.
Mann admitted that the situation on ground is alarming. "The safety of buyers and their hard-earned money is at stake," he rued.
City of realtors
The stranglehold of builders on the city is only natural given that everyone, right from local MLA N K Sharma to councillors, is into the realty business.
"Even officials too have stake in property dealing here," said a source in MC, who sought anonymity.
The MC has 31 members, all of whom are aligned to the Shiromani Akali Dal. While Sharma is a well-known known builder-turned-politician, HT independently found that at least 15 of the councillors are either colonisers or realtors. Congress leader Deepinder Dhillion puts this figure at 24.
Manoj Das, general secretary of Zirakpur's Confederation of Resident Welfare Association, summed up the sentiments of most residents when he said, "We live in a city where elected representatives work for builders, not for residents. The Illegal realty development needs to be stopped as the city is fast turning into an urban slum."
Confirming the influence of land sharks, Praveen Sharma, a retired government official, who is now the councillor of Ward No 3 (Baltana area), said councillors involved in property business are more powerful than those with other profiles in the MC house. "We often feel marginalised," he complained.
59 illegal colonies
As per Mann's report, a whopping 59 illegal colonies have come up under the civic body's nose in the past few years, choking the city roads. As if this wasn't bad enough, the council has also failed to recover over ₹29 crore of taxes from various builders.
While MC's soft approach towards illegal colonies and approved building projects is well known, the tug of war between politicians is only compounding the existing problems.
Congress' Deepinder Dhillion, who lost to Sharma in the last assembly elections, blames the existing violations in Zirakpur on the decade-long Akali rule.
"Local Akali MLA NK Sharma and his councillors abetted large-scale mushrooming of illegal colonies. We are now trying to streamline the system by enforcing regulations," he claimed.
But Sharma blames Dhillion for sheltering erring builders. He said though Congress minister Navjot Sidhu promised to punish all the culprits in the Peer Muchalla building collapse case, the very next day Dhillion shared space with Pushpinder Goyal, one of the prime accused, and even made him president of the builders' association.
"How do you expect the police to carry out a fair probe in such a scenario," he asked, while blaming the illegal development on corrupt officials. "They don't listen to us as they are Congress government appointees," he claimed.
No arrests in building collapse
Amid this political mudslinging, the police are yet to arrest even a single accused in the building collapse despite booking 18 people.
The FIR lists erring builders, councillor of Ward No 12, and MC officers, including the then EO and SE. They face multiple charges of fraud, negligence, endangering public life, criminal breach of trust and criminal conspiracy.
Sub-Inspector Jagjeet Singh, in charge of the Dhakoli police post where the case was registered, said they have collected relevant records of the project from the Zirakpur Municipal Council.
"We are scrutinising the records to find out the exact role of all those involved before making the arrests," he said.
However, most of the accused plead innocence. SE Kuldeep Verma says he has been wrongly framed. "I was not in charge of the building branch when this project was approved. I have already given a representation to the SSP," he said.
Pushpinder Goyal said the majority of development in Peer Muchalla was unauthorised. "We got it regularised in 2014 under the then state policy and sold the plots to contractors. But we should not be held accountable if those responsible for construction did not ensure quality construction," he claimed, adding that he was cooperating with the police.
The preliminary probe found that the developers were raising flats even though they had been given permission only for building houses.
An office-bearer of Zirakpur Builders Welfare Association said this happens quite frequently. "Such projects are also not registered under RERA. They should be scrapped," he demanded.
Prateek Mittal, a leading builder of Zirakpur, called for regular monitoring of ongoing constructions. "Buyers also must research the market well before investing their money," he advised.
MC soft on projects without completion certificates
Even projects, which are approved, lack basics such as fire safety, sewerage treatment plants, and green areas et al as
MC does not penalise builders who give possession to buyers without getting a completion certificate from the civic body.
According to Mann's report, there is hardly any project with completion certificate even though every builder must get it before handing over the property to the buyers.
While MC recently issued a public notice asking buyers not to take possession of flats without a completion certificate, it is silent on penal action against those projects where buyers are already occupying the building, and the promoters are yet to get the certification of completion from the civic body.
MC executive officer (EO) Manveer Singh Gill said their list of violators is almost ready, and they will start serving the notices next week. Earlier, he had said that the notices will be delivered last Monday.
Close