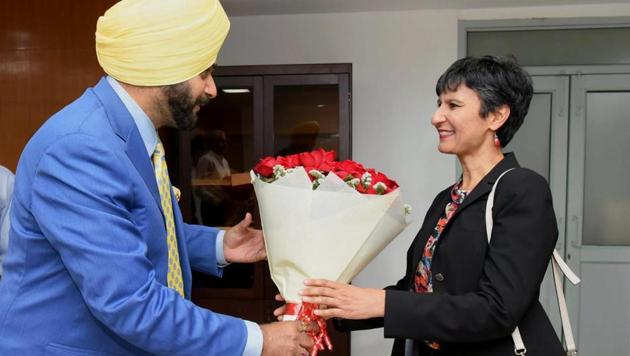 Australia to help Punjab in fighting cancer
Australian high commissioner Harinder Sidhu on Thursday called on local government, tourism and cultural affairs minister Navjot Singh Sidhu at the local body bhawan. The two dignitaries held talks primarily centering on mutual co-operation viz-a-viz the Smart City project, education and sports.
UPDATED ON MAY 04, 2017 11:32 PM IST
Australia has agreed to provide its expertise to help the Punjab government in its efforts to eradicate cancer by identifying the root cause of the water problem in southern Punjab, and in promoting modern practices in agriculture and allied industries in the state.
This was conveyed to chief minister Captain Amarinder Singh here on Thursday by Australian high commissioner Harinder Sidhu, who also extended her government's cooperation to the state in the fields of education, sports, skill training, agriculture and animal husbandry.
The chief minister sought Australia's help in identifying the reasons for the poor quality of underground water, especially in southern Punjab, which was the major cause of the devastating spread of cancer in the districts of Muktsar, Bathinda, Sangrur, Moga, Faridkot, Fazilka and Ferozepur.
The Australian high commissioner, who has Punjabi roots as her ancestors hailed from Dharamkot village in Moga district, expressed concern over the situation and offered all possible help on behalf of her government to wipe out the cancer menace from the state.
Mutual cooperation in the fields of agriculture, food processing and horticulture was also discussed by the two leaders. Sidhu offered to help the state in exploring possibilities to develop new varieties of vegetables and fruits to supplement the income of farmers, besides giving technical know-how for 'embryo transfer' to improve cattle breeding.
Sidhu said her government was keen to tie up with the educational institutions and universities in the field of higher and technical education in Punjab. She also evinced keen interest in collaborating with the Punjab government to launch skill development courses for the state's unemployed youth to boost their employment opportunities. Such trained youth could in turn impart skill training to other youth to help them become self-employed or suitably employed as per the local needs of the industry.
Earlier, Sidhu had also called on the local government, tourism and cultural affairs minister Navjot Singh Sidhu here. The two dignitaries held wide-ranging talks primarily centered on mutual co-operation in Smart City projects, education and sports.
Close