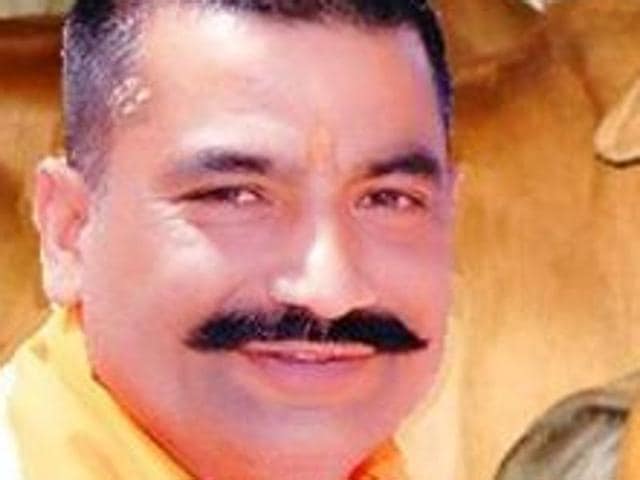 'Modi now using cow for votes of butchers': Booked gau rakshak leader
"The PM's statement is politically motivated. It is one-sided. If he had warned the butchers not to slaughter or smuggle cow, then his statement would have been justified... He is doing vote bank politics to get the butchers' vote," Satish Kumar said
UPDATED ON AUG 08, 2016 10:27 PM IST
A day after cow vigilante Satish Kumar—chief of self-styled Gau Rakhsa Dal—and his 12 associates were booked, police said they will make arrests only after verifying the videos and collecting material evidence against the accused.
The FIR against Kumar was registered on Sunday, the day Prime Minister condemned the attack on Dalits by cow vigilantes. Kumar and his aides were booked under sections 382 (having made preparation for causing death), 384 (extortion), 341 (wrongfully restraint), along with sections 148 and 149, of the Indian Penal Code (IPC).
Talking to HT on Monday, Kumar took a dig at the Prime Minister, saying Modi's statement against the 'gau rakshaks' was aimed at wooing non-Hindu voters in election-bound states, including Uttar Pradesh and Punjab.
"Earlier Modi used cows to garner votes in the Lok Sabha elections by condemning the cow slaughtering, and now he is trying to use it to woo the butchers. As the elections are due in UP and Punjab, Modi government has asked the police to take action against us, to woo Muslims and other non-Hindu voters," said Satish Kumar.
"Let me tell you, I won't back out. I will keep my tirade against cow slaughtering. I am not afraid of arrest. I will court arrest," he said, questioning why police were silent on cow-killers.
"It is my wish that if I die before there is a blanket ban on killing of cows in India, my ashes be kept at a 'gaushala' and immersed in the Ganga only after every cow is safe in India," he said.
Kumar said the videos in question were uploaded on the social networking sites about a decade ago. "Where was the police all these years?" he said.
"If a video can be used as an evidence for the registration of an FIR then the police should also book butchers on the basis of cow-slaughtering videos," he said.
The said videos show truck drivers and other people found indulging in transporting cows being beaten up. Some of vigilantes had allegedly urinated on the victims. Kumar and his aides are seen carrying firearms and swords.
Also Read and Watch | Punjab's gau rakshaks have been flaunting violent 'actions' on YouTube
Arrests after investigations: SSP
Police had started investigations on August 2 after intelligence shared the video of 'army of cow vigilantes in action' with the police.
"Police did not receive any complaint against the accused, we registered the case on the basis of the video evidence. We will make arrests only after investigating how old the videos are. If anyone has a complaint against Kumar, he or she can approach the police," said SSP Gurmeet Singh Chauhan.
Kumar and his associates, among other charges, have been booked for demanding ` 50,000 from Saharanpur's Imtiaz and Babloo, whose vehicles carrying cattle were seized by the group at Rajpura, recently. Kumar freed the tow and the vehicles allegedly after pocketing `30,000. The FIR, as per sources, also reads how Kumar and his men urinate on cattle smugglers, beat them up and post 'action videos' on the Facebook.
The SSP said a technical team is trying to identify the locations, vehicles and people in the videos, including the victims. "Nobody has the right to stop any vehicle; it is the duty of the police. A person can lodge a police complaint if harassed by private people," Chauhan said.
Know the Dal
Gau Raksha Dal of Punjab claims that they are cow-worshippers and committed to save cows. The group headed by Kumar is a registered society. Kumar claims that the group has saved more than 100,000 cows from slaughtering since 1986 and got more than 500 cases registered against cow smugglers across the country. "A number of cases had been filed against me being the chief of the group, but I did not bother. I am saving my mother and people are with me, who are ready to risk their lives for the sake of cows," Kumar wrote on his blog.
(with inputs by Harinder Singh)
Close