'Felling to restart': Work on Doaba four-laning projects set to gather pace
Due to a ban on the felling imposed by the NGT in June last year, construction on both the projects was all but stopped.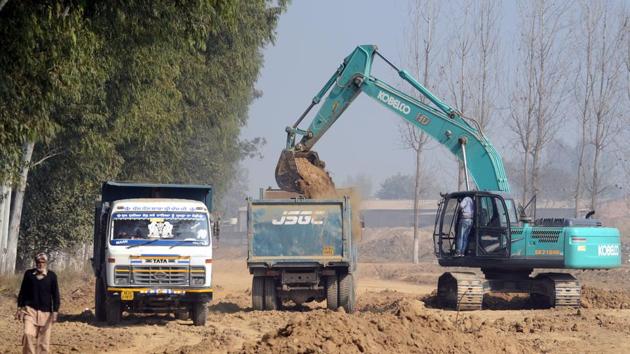 Updated on Jan 16, 2018 10:06 AM IST
Construction work on two major four-laning projects in the Doaba region — Phagwara-Rupnagar and Jalandhar-Hoshiarpur — looks set to gather pace as the National Green Tribunal (NGT) is learnt to have given the go-ahead to axe trees on both the stretches.
Due to a ban on the felling imposed by the NGT in June last year, construction on both the projects was all but stopped.
Shubham Bhalla, the advocate who submitted the request for permission to axe around 11,000 trees on the Jalandhar-Hoshiarpur stretch being widened by the state's public works department, said justice UD Salvi, who chairs the NGT, has given permission to axe the trees.
"We will receive a written order in a day or two," he said. For each tree axed, five have to be planted at other sites.
While the 80.8-km stretch Phagwara-Rupnagar is being widened by the National Highways Authority of India (NHAI), the 39.4-km Jalandhar-Hoshiarpur project is with the public works department (PWD).
Both were started in October last year; while the Phagwara-Rupnagar stretch has a deadline of two years, the other one has two-and-a-half years. Before the ban, the state forest development corporation had axed 4,044 trees of 5,929 trees on the stretch in Jalandhar district, while 10,062 are yet to axed.
On the Phagwara-Rupnagar stretch, there are more than 20,000 trees, of which 12,000 were axed. Officials in the NHAI — unnamed for not being authorised to speak with the media — said the project come to a standstill particularly in a 35-km stretch near Balachaur, and the machinery's underuse meant extra cost.
"We have assured the NGT that we shall fulfil all conditions to plant trees in lieu of those axed. That planting will be started in the next season," said Rajeev Saini, executive engineer, PWD.
Neeraj Jain, project director for the NHAI on the Phagwara-Rupnagar project, said, "Now that we have got the permission, work for cutting trees will be completed before February 28 to avoid any further delay in the project which has already been running behind deadline by at least three months." Jain, however, assured completion of the project on given deadline, which works out to be March 2020.
However, Jain said shopkeepers in Banga who are protesting against the elevated road as part of the widening may lead to delay. Over 500 shopkeepers and traders are demanding a bypass instead. "The elevated road will not affect any business. In fact, it will provide huge space for parking and also help curb accidents," Jain said.
Close Story
Personalise your news feed. Follow trending topics