Flash floods damage roads, bridges in Himachal's Kullu and Rampur
Updated on Aug 18, 2018 03:55 PM IST
As many as six foot bridges, nine water mills have been washed away due to heavy rains in the last 24 hours.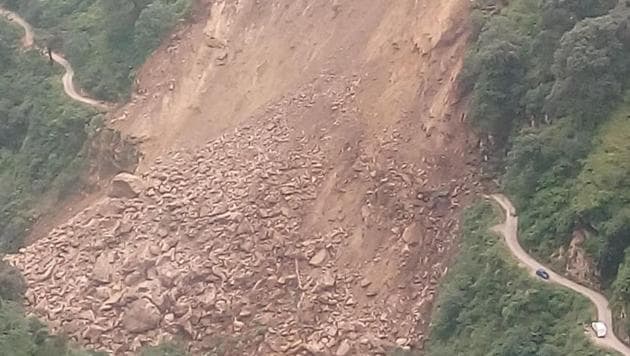 Hindustan Times, Shimla |
, Shimla
HT Correspondent
Flash floods due to heavy rain in Himachal Pradesh's Kullu and Rampur damaged public and private property on Saturday.
As many as six foot bridges and nine water mills have been washed away due to heavy rains in the region since last 24 hours.
Around half a dozen foot bridges in several areas of the Kutt panchayat in Shimla's Rampur tehsil were damaged after rains caused flooding in local nullahs and rivulets.
Bridges connecting Kutt, Kyuncha and Kifni villages in Shimla district were also damaged. However, no loss of life was reported. "Ten houses were damaged in rains,"said Kutt panchayat pradhan Vijay Matet.
Flash floods also damaged roads and houses in Chalol and Rasol villages in Kullu district's Manikaran.
Flooding in the nullah damaged a house in Rasol, while nine water mills were completely damaged due to heavy rains in the area.
Due to heavy precipitation in Dhundhi, 25km uphill the tourist town of Manali, roads were damaged. Dhundhi is the south portal of the strategic under construction Rohtang tunnel.
Heavy downpour in the area brought debris in the nullah and a water pump supplying water to the company executing tunnel construction was reportedly damaged.
Meanwhile, Mandi district administration has warned people not to venture near the Beas. "Water will be released from Pandoh dam in Mandi," said deputy commissioner Rigved Thakur.
Water levels have also risen considerably in the Larji dam in Kullu district.