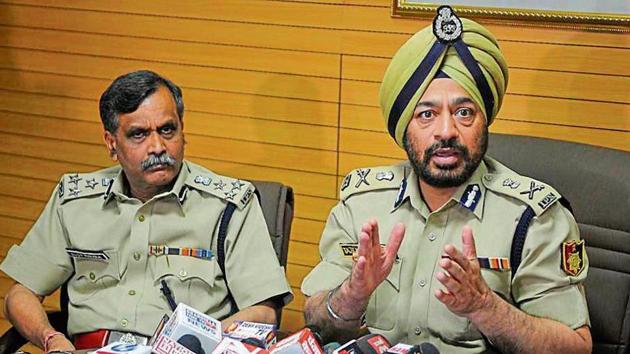 Guv for joint investigative mechanism between Punjab, Haryana, Chandigarh police
Reining in crime: Chandigarh police to work in coordination with Mohali and Panchkula cops to trace criminals fleeing into Chandigarh's periphery towns.
UPDATED ON APR 07, 2018 01:24 PM IST
Taking note of the deteriorating law and order situation in the City Beautiful, UT administrator and Punjab governor VP Singh Badnore on Friday exhorted the director generals of police (DGP) of Punjab, Haryana and Chandigarh to set up a joint investigative mechanism for sharing information.
Briefing the media after a meeting with the governor, Chandigarh DGP Tejinder Singh Luthra said, "A formal system will be established where information about criminals, and resources to nab them will be shared between the police of Chandigarh, Panchkula and Mohali."
Having been pulled up by the Punjab and Haryana high court more than once for failing to rein in crime, UT police have repeatedly claimed that it's difficult to trace criminals, who escape the city through Mohali and Panchkula after snatchings, robberies and carjackings.
"The tricity police will also exchange their investigation protocols. Besides, Chandigarh police will set up checkposts in coordination with Mohali and Panchkula police, with the hope of instilling fear in the minds of criminals targeting Chandigarh residents," Luthra added.
He said three teams comprising DGPs, senior superintendents of police (SSP) and superintendents of police (SP) will work at different levels for smooth coordination between the three police departments.
To counter the rising crime rate in the city, DGP Luthra said UT police, PCR cops and traffic police have been told to be stringent in the checking of two-wheeler riders.
He said the police were also relying on Union ministry of road transport and highways' application 'Vahan'. "The app helps cops confirm whether a registration number belongs to the vehicle. PCR personnel have been asked to send daily list of vehicles checked," Luthra said.
Moreover, the whereabouts of convicts out on bail and people acquitted in cases of snatching are being monitored by the police to know about their present activity. Police officials said the new practices were bearing fruit, claiming the number of snatchings had come down in the past fortnight.
Close