HT Youth Forum 2018 l Trailblazers high on dreams, grit and glory
Updated on Oct 25, 2018 12:58 PM IST
HT presents the achievers and what fires their dreams.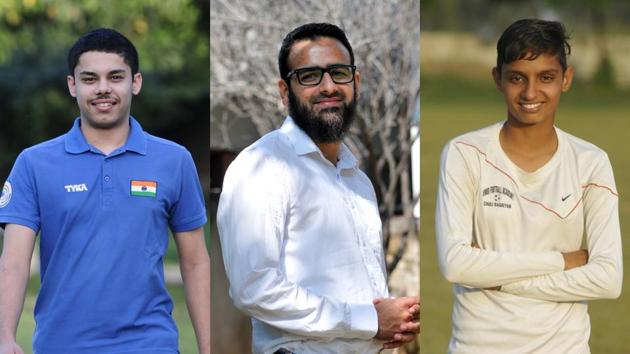 Passion personified best describes the list of nine achievers. A youngster from Kashmir lost his home to militancy but that didn't stop him from topping the Kashmir Administrative exams, that too without any coaching. Another youth from Ambala used his daily commute on rails to Chandigarh as his muse for his works of art. Teenaged girls from dusty Sadalpur may not have seen Mumbai but they dream of playing in the World Cup. Another young man is not afraid of getting hurt in his quest for medals. HT finds out what fires their dreams:
GIRL WITH AN EYE FOR GOLD
Manu Bhaker, 16 Shooter, Jhajjar, Haryana
Because
She is the youngest Indian shooter to win gold at the ISSF World Cup held at Guadalajara this year. She won the top honours in the 10m air pistol event and also got a gold in the 10m air pistol mixed event in the same championship. Earlier, she won a gold in her maiden appearance at the Commonwealth Games held in Gold Coast. Manu also won a gold in the recently concluded Youth Olympics held in Argentina.
Secret of success
There is no alternative to hard work. I make sure I never miss a training session. This is why I headed directly to the national camp to prepare for the Asia Cup after coming back from Argentina.
The goal next
To make a podium finish at the 2020 Tokyo Olympics. But before that I will be focus on the World Cup starting next year to qualify for the Olympics.
My Role model
No one specific, but I draw inspiration from all the achievers and from those who have achieved success despite many difficulties in their lives.
By the way
Before being hooked on to shooting, I tried my hand at martial arts and roller skating. I even participated in the Haryana State Skating Championship.
When not training, I de-stress myself by taking to paint and brush. I love painting, be it sceneries or objects. It gives me tremendous joy.
Second Opinion
Dedication and focus are the main factors behind Manu's success. Whatever she does in life, she gives it her 100 percent. I hope to see her making the country proud in the coming tournaments.
–Ram Kishan Bhaker, father
THE RAIL ARTIST
Rahul Dhiman, 28, Ambala, Print-maker
Because
He is a recipient of the 'Sohan Qadari' scholarship sponsored by the Chandigarh Lalit Kala Akademi, and numerous other national and college-level awards. A much feted print-maker, he is known for his work on rails, inspired by his daily commute between Ambala and Chandigarh.
Secret of success
I am continuously trying to improve myself. Each piece of art I create drives me to create more and do better work. I dream of seeing myself as a reputed artist in future. And this dream keeps me going.
The goal next
As an artist I want to work for the development of art in society. I also want to be a good teacher.
My role model
My father is my role model because everything I am today is because of what I have learnt from him. He is the pillar of the family and my strength.
By the way
I am very fond of theatre, dance and travelling. I daily commute between Ambala, my home, and Chandigarh, my place of work, either on train or cycle. This journey gives me time to reflect on things, which have became an essential part of me and my art.
I have also been doing bhangra and jhoomar for the last 10 years. I enjoy participating in youth festivals across the country.
Second opinion
Rahul Dhiman is a hard-working and talented artist. He is very good at print making and has even got a scholarship from the ministry in this regard. Right now he is a guest faculty in my department and is doing a good job.
–Nirmal Prakash, Govt College of Art
SHE PUSHES THE ENVELOPE
Nisha,14 Sadalpur, Football player, Hisar
Because
She was part of the India Under-16 Football team that won the South Asian Football Cup held in Bhutan in August this year. She was also part of the Under-16 Asian Football Confederation qualifiers tournament held in Mongolia. She plays as a left-winger.
Secret of success
The secret to success is vigorous hardwork. No matter how skilled or talented you are, there is no way you can do well in competitions and tournaments if you don't train hard. Sometimes, the difference between a victory and defeat lies in the number of hours you spend on the field. I believe I can make my weaknesses my strength if I train hard. Motivation from my coach and parents helps me to push the envelope every time I play.
The goal next
I'd love to win the World Cup. It is a very fond dream of mine. That is why I watched almost all the matches of the World Cup this year.
My role model
My role model is Memon Rockey. His skill is unparalleled. He is a mid-fielder and I watch his games on repeat to improve my game.
By the way
I love the song Hanikarak Bapu from Dangal and Chak De India is my favourite movie. However full I may be I always have room for scrambled paneer.
Second opinion
"After her father passed away, there was no male member in the family to look after the family. Her sister quit football to assume household responsibilities. And she endeavours to make her sister proud in every game she plays."
–Vinod Loyal, coach
SHOOT AND SCORE
Kiran,14 Sadalpur, Football player, Hisar
Because
She was part of the India Under-16 football team that won the South Asian Football Cup held in Bhutan in August this year. She was also part of the U-16 Asian Football Confederation qualifiers tournament held in Mongolia. She is the right-mid fielder for her team.
Secret of success
The credit for my success goes to my coach and parents. Hard work is important but I feel confidence in one's abilities is even more important. Training is very vital for a good player. Persistence and consistency together hold the key to success. I play with confidence but I also don't miss any training.
The goal next
It is my goal to someday represent my country at the international level. I have just started playing but I think I can go a long way if I keep my focus on the ball.
My role model
My role model is Malto Devi. I feel her game is very strong.
By the way
I am a huge fan of Salman Khan. He was brilliant in the movie 'Sultan'. I loved the way he returned to wrestling despite all odds. It shows how determination to succeed can take you places.
Although I plan to play football for a long time, I am also fascinated by science. It would be great if could pursue a career in science. May be, I could become a scientist.
I love Punjabi music in all its variety. It can both so peppy and melancholic. My foot begins tapping on its own accord as soon as I hear a Punjabi song.
Second opinion
"She is an outstanding shooter, who is able to carry a game on her shoulders."
–Vinod Loyal, coach
WITH LASER SHARP FOCUS
Vijayveer Singh, 16 Chandigarh, Shooter
Because
Clinched both individual and team gold in 25 metres standard pistol event in the Junior World Championship held in South Korea in September this year.
Secret of success
Success demands a lot of hardwork on my part and on the part of my coach. One needs to be determined and have the will to succeed. On an average day I practice for four hours. One must diligently practice everyday.
My Goal Next
My brother and I have initiated a shooting event Rapid Fire. Making it a success is my immediate aim.
My Role Model
Christian Reitz from Germany is my role model. He is a brilliant rapid fire shooter.
By the way
I love having chicken. I am partial towards comedies and soothing melodies.
Second Opinion
"He is a gentleman and follows directions to a tee. He is a natural and spontaneous shooter."
–Dalip Chandel, coach
ON THE WHEELS OF SUCCESS
Amit Balyan, 28 Sonipat, Para athlete
Because
This wheelchair-bound athlete won silver in the javelin throw event in the 2018 Jakarta Para Asian Games.
Secret of success
My success is all thanks to my guru Amit Saroha and Sunil Phogat. Amit sir's training and trust in my ability constantly motivates me to do my best.
My goal next
My major goal is to clinch a gold medal in the 2020 Olympics.
My role model
Again, I will name Amit Saroha as my role model. I would have continued to remain home-bound if he had not trained me and encouraged me to participate in sports. Through him I met Sunil Phogat.
By the way
I am absolutely focused on my training. I let nothing distract me from my goal.
Second opinion
"Amit and I were injured together and we met in the hospital for the first time. He maintained a positive outlook despite his injuries. He was very quick to grasp things. Even, in rehab he was the first to be able to correctly perform an exercise. Amit has a great capacity for learning due to which he has been able to carve a niche for himself at the national and international level."
–Amit Saroha, Paralympian, Asian Para Games medalist & Arjuna Awardee
UNDETTERED BY THE ODDS
Anjum Bashir Khan Khattak, 28 Surankote, KAS officer, Poonch
Because
He topped the prestigious Kashmir Administrative Services (KAS) exam 2014, becoming the first ever person from his district to achieve this feat. This erstwhile Maths teacher did not go to any coaching centre and did his preparations all by himself.
Secret of success
Utmost belief in almighty, sincerity and dedication in performing a task, plus the motivation which I get from the challenges I faced in my childhood. A mix of these characteristics motivated me to embark on this journey and reach where I am. I hope I will continue to improve myself.
The goal next
Getting into the administration services is just the beginning, my real goal is to serve the masses and maintain my integrity and selflessness throughout my administrative career. I want to use this platform for the interests of the society at large. My real success would be to achieve something tangible for my people and the nation. I want to be able to make a difference.
The role model
Prophet Muhammad is my role model. His life is the lighthouse of my endeavours. It teaches me the core values required to be a good administrator, and more importantly, a good human being. His ideals of peace, tolerance and sympathy kept me on the right track in the times of turbulence, bloodshed and hatred. I am what I am because of Him.
By the way
I am closely associated with some non-government organisations which work for the socio-economic upliftment of the deprived sections of society, and educate them about their rights, government schemes and policies.
I also collaborate with Initiative for Competition Promotion (ICP), a non-profit organisation, which provides guidance, material and free boarding facilities to civil service aspirants in the state.
Second opinion
"Kuchh log they jo waqt ke saanchey mein dhal gaye, Kuchh log they jo waqt ke saanchey badal gaye."
–A teacher
JACK OF ALL MARTIAL ARTS
Narender Grewal, 24 Hisar, Wushu champ
Because
He won bronze in Wushu, also called Chinese Kungfu, in the 2018 Jakarta Asian Games. It was his second successive continental games medal. Wushu is a hard and complete martial art.
Secret of success
There are no short cuts to success. As you know Wushu, is an endurance-based combat sport. We have to work extra hard and face the blows even when we are winning the game.
A Wushu champion has to be proficient in wrestling, boxing and taekwondo at the same time. It is a tall order and requires hours of practice as all these three fields have their own requirements. I try my best to train as hard as possible in all the three. I also train my mind because a Wushu champ must be ready to suffer blows and still not go down. Victory and defeat are equally in the mind as well.
The goal next
I want to win the World Championship as I have never won it till now. For the last two Asian Games, I was only able to win a bronze so I want to change the colour of my medal.
I have four years in my hand and I will do my best to improve my standing from third to first.
My role model
My role models are Sushil Kumar and Yogeshwar Dutt. Sushil Kumar has made India proud numerous times and Yogeshwar Dutt is an inspiration for all sportspersons who have had to face injuries. He has had around eight to ten operations but he did not give up.
I too broke my jaw in 2015. The doctors told me that I would not be able to play again but I took inspiration from Yogeshwar sir and rebounded. These days I am playing better than ever before.
By the way
I enjoy watching movies made on the life of sporting greats. I also enjoy watching others in the ring.
Second Opinion
"He is one of the best and the most experienced Wushu players in the country. He will definitely live upto our expectations in the next Asian Games."
–Kuldeep Handoo, Wushu coach
Personalise your news feed. Follow trending topics