In run up to festivals, Chandigarh civic body allows stalls in markets
The orders by the MC mention that vending will not be allowed in parking areas and market corridors.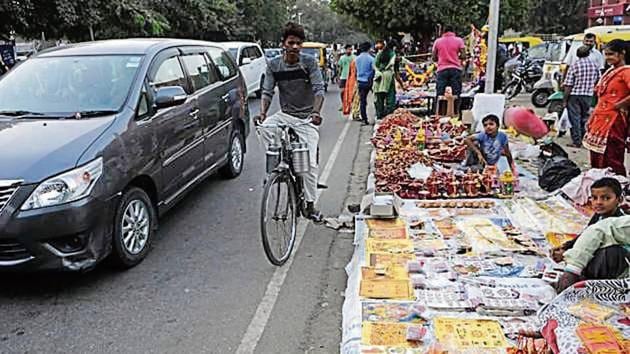 Updated on Oct 17, 2018 01:20 PM IST
The Chandigarh municipal corporation (MC) has allowed putting up of stalls in the markets in view of the upcoming Dussehra and Karva Chauth celebrations. However, there seems to be no plan in place to streamline vending, except for collection of fee for putting up stalls on government land.
The orders by the MC mention that vending will not be allowed in parking areas and market corridors. However, the restriction is hard to implement as markets become chock-a-block with both shopkeepers and street vendors putting up their stalls.
The situation will add pressure on the local administration which was asked by the Punjab and Haryana high court on Monday to control rush during festivals and prevent parking chaos.
Mess begins today
According to MC's orders, stalls are allowed in the markets from October 17 to 19 (Dussehra) and then from October 24 to 26 (Karva Chauth).
Charges are much higher for putting up stalls in Sectors 17 and 22 as compared to other sectors. For instance, the three-day charges for stalls up to 20 sq ft in Sector 22 are Rs 666 in comparison to Rs 347 in other markets.
The charges are to be collected by inspector of the enforcement department.
What they say
Chairman of the Federation of Sector Welfare Associations (FOSWAC), Baljinder Singh Bittu, said, "Every year, we ask MC to fix a threshold of stalls in the markets based on their holding capacity, but the enforcement staff allows everyone to put up stalls even as footfall remains very high during these days. There is little to no action against those encroaching corridors."
"MC should designate the areas where setting up of stalls should be allowed rather than freewheeling commercial activities during festival rush, which make it difficult for shoppers to visit the markets," he said.
On the other hand, Chandigarh Beopar Mandal president Anil Vohra said MC should give the preference to shopkeepers while allowing putting up stalls. "MC's inspection team allows even vendors to put up stalls, thereby creating a mess in the markets," he said.
When contacted, MC special commissioner Sanjay Kumar Jha said he will look into the issue on priority to streamline the rush during festivities. "MC has been taking a lot of steps like making additional parking available. We will also ensure proper enforcement in the next couple of weeks for smooth operations," he said.
Close Story