Made in Chandigarh: It was a city of mentors, says corporate honcho Gajinder Singh Bains
Hindustan Times, Chandigarh |
Manraj Grewal Sharma
Oct 26, 2018 10:49 AM IST
Business leadership, particularly turnaround where change is required, has become my forte. Breakthroughs in manufacturing, quality, human relations, marketing and profitability are some of my other success stories.
A corporate honcho who learnt bird watching at St John's, Gajinder Singh Bains likes returning to Chandigarh to sup with nature and relive his youth in the company of old friends.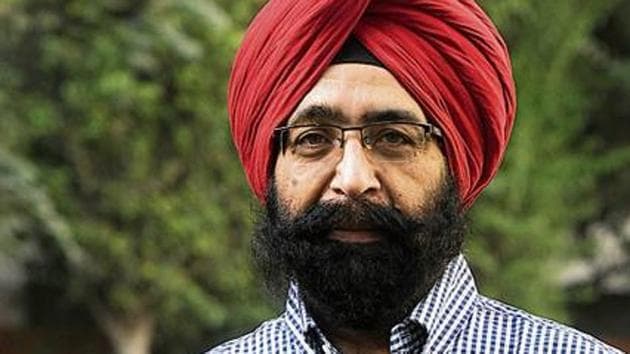 Designation
I am the founder and principal consultant at Bains & Associates. Earlier, I was CEO - GS Auto International Ltd, Business Leader - Tata Automotive Components Ltd, and vice-president of GE Motors, India.
Hometown
Chandigarh
Education
I graduated as a mechanical engineer from the Thapar Institute of Engineering & Technology. Earlier, I studied at Carmel Convent (yes, it was co-education till primary school those days) before joining St. John's school, DAV College and Govt. College.
My Chandigarh Connect
I have been brought up in Chandigarh from the age of one. I was introduced to bird watching by Brother PJ Tynan, principal at St. John's, and mentored in it by Manmohan Singh, an IAS officer. Regular rowing and sailing at the then pristine Sukhna Lake was part of my daily routine with weekends spent in day hikes circumnavigating it.
I worked part-time at the then New Studio Adarsh doing studio and darkroom work and selling LPs (though it was sometimes frowned upon by schoolmates' parents who would tell me, 'You come from such a good family, why do you need to work?').
I also led the Boy Scouts troop at the annual Republic Day and Independence Day march past, and we would often end up winning the best contingent award.
Area of Expertise
Business leadership, particularly turnaround where change is required, has become my forte. Breakthroughs in manufacturing, quality, human relations, marketing and profitability are some of my other success stories. I also enjoy mentoring young leaders. Photography and nature continue to be my passions.
My Secret Sauce
I embrace change for I know that if I don't do it I will be swamped by it as change is the only permanent. Each and every moment is an opportunity to make something better. Always challenge the status quo.
I am good at involving people. Even at the highest level, people need to be motivated to see their stake in the change. That is what makes it truly rewarding for everyone.I always look for how I can make a positive contribution to people I meet; in return, it enriches my experience.
I also keep myself abreast with technology. My nightmare is my children asking me a question that I can't answer.
The Turning Point
With so many hobbies and interests, I was never a very high scorer in high school. Then I joined Govt College in pre-engineering in 1979 when K Atma Ram was the principal. Miraculously, I became a top scorer who also participated in co-curricular activities and brought laurels to the college in NCC. That paved my way to a career in engineering. The credit goes entirely to my amazing professors who encouraged me for my diligence and not past results.
I am deeply indebted to Professors OP Sood, BS Aggarwal, GD Pahuja, Prahlad Aggarwal and S. Marriya. It was a great lesson for me in learning not to judge people.
What I Owe to Chandigarh
Besides the bright skies and clean air, the Chandigarh I grew up in was a perfect place to find mentors for all that I did, be it academics, hobbies or even mischief. You only had to show interest and there were willing illustrious mentors everywhere. Also growing up in Chandigarh made me live the "Think global, act local" mantra, which helped me in my international work experience.
Things I like to Do when I Visit Chandigarh
Walk around Sector 17, bump into old acquaintances and relive past experiences. I also enjoy eating sambar vada and keema dosa at the Indian Coffee House. I go to the shops which are just the way they were when I was a child; meet old schoolmates and turn young again for the moment. I try to do some birding with the effervescent Chandigarh Bird Club. Have done the two last annual bird races with them.
A solo walk and mindfulness at Sukhna Lake is a must for the trip to be complete.
How has the City Changed?
Though you can still cycle on the roads, roller skating on them is not that convenientnow.
Chandigarh used to be one city, but today it exists in many layers, some deep and traditional, others transient and superficial. It used to be a city of an immersive learning experience, it's more glitzy, fast and commercial now. The city had an ethos with its mix of culture and demographics, a unique "Chandigarhiat" which had to be experienced. That has changed.
Changes I would Like to See
Chandigarh had a lot of advantages for developing entrepreneurship but many in the city are wary of going out of the city as it offers a cosy, protective cocoon. This must change. The spirit which created a completely new city and a new culture must spawn more. That is the best service Chandigarhians can do for their hometown.
The Best Advice I Ever Got
"You are not Boys, you're Men!". Our 10th class teacher Brother McCann would repeatedly remind us. His message was to be honest with our own selves. Test papers would be given to us to carry home and submission was optional. "Who are you trying to fool?", he would gruffly ask when cautioned that students would open their textbooks or not submit the answer sheets. I still try to live by that advice.
My Advice to Youngsters in My Field
Follow your heart. To do that you have to have the knowledge of how to do that. Knowledge is a great asset but it has to be treated with great respect. Too little of it is as dangerous as thinking that you have all of it.
Follow the cycle of Learn > Unlearn > Relearn constantly. Seek knowledge with humility and put it to good use. Seek mentorship so that you can learn from other's mistakes and not make all of them on your own.
"Guru bin gyan nahin". Be rigid in integrity and flexible in opinion.
Take on a hobby with diligence, it can be a great career enhancer. Embrace change and be honest with yourself.
"Exciting news! Hindustan Times is now on WhatsApp Channels
Subscribe today by clicking the link and stay updated with the latest news!"
Click here!