Paid less than a peon, guest lecturers up ante against govt
Nov 28, 2015 07:19 PM IST
In Punjab, nearly 700 guest faculty lecturers — holding a postgraduate degree — in government colleges get salary even less than a peon.
In Punjab, nearly 700 guest faculty lecturers — holding a postgraduate degree — in government colleges get salary even less than a peon.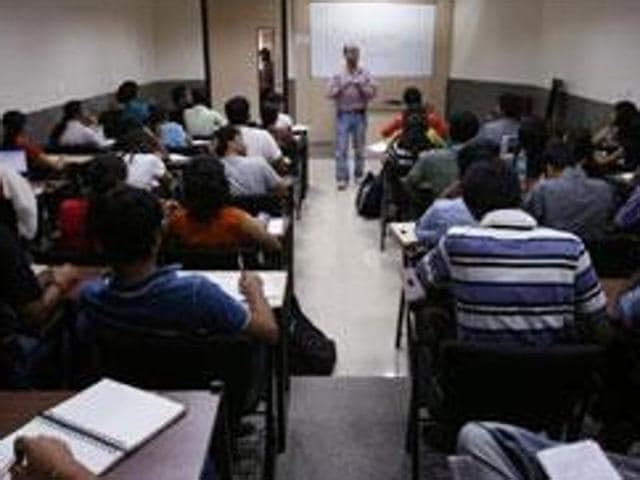 While guest lecturers get a paltry salary of Rs 13,000 per month, a grade-IV employee of the Punjab government draws Rs 18,000-20,000 per month.
Stay tuned with breaking news on HT Channel on Facebook.
Join Now
Peeved over the government's "apathetic attitude" towards their pending demands, including regularisation and parity in pay scale, the guest lecturers have now decided to gherao SAD-BJP ministers.
Also, they have decided to make an appeal to students to boycott state government's functions.
In Punjab, there are 1,873 sanctioned posts of lecturers. While 875 lecturers are regular, 700 have been appointed as guest faculty and 270 as part-timers.
With less than 50% regular lecturers in government colleges, guest faculty forms the backbone of these institutions. These lecturers, however, are not eligible for any increment, besides 10% hike per year in their fixed salary.
Punjab government guest faculty association president Harminder Singh said they have approached the higher education authorities several times, but failed to elicit a positive response.
"On one hand, the government is making tall claims of improving standards of higher education in government colleges, but on the other, it has been ignoring our genuine demands. As a result, teachers with PhD and MPhil degrees are forced to work on a salary even less than that of a peon," he rued.
Harminder claimed even higher education minister Surjit Singh Rakhra has failed to do anything concrete to mitigate their woes.
"We have no option but to expose the real face of the government before our students. At least, young voters should know the reality. We have decided to ghereo Punjab ministers and MLAs. The schedule will be announced shortly", he said.
"Is this the way to deal with well-qualified teachers? We have degrees equivalent to those who have been appointed on regular basis, but we are grossly underpaid" says Deepak Kaushal, a guest faculty lecturer at Ripudaman College, Nabha.
The irony is that 50% guest lecturers have crossed the age limit to apply for other government jobs, added Kaushal. "Many of us have now no other option but to work on such a low pay scale," he added.
Higher education minister Rakhra claimed the government had considered the guest lecturers' demands, but most of them did not meet the fresh UGC criteria to work in colleges.
"We are going to advertise fresh posts of lecturers in the coming days. However, only those guest faculty lecturers will be allowed to apply who fulfil the UGC norms," said Rakhra.
Recently, the Punjab and Haryana high court had directed the state government not to relieve guest lecturers till vacant posts are filled.
The state government's announcement to advertise fresh posts in the higher education department, under its ambitious plan to generate 1.13 lakh jobs in the state, has brought some ray of hope for guest lecturers.