Panjab University students' council gets its first woman president
A member of the left-leaning student wing Students for Society (SFS), Kanupriya defeated five male candidates.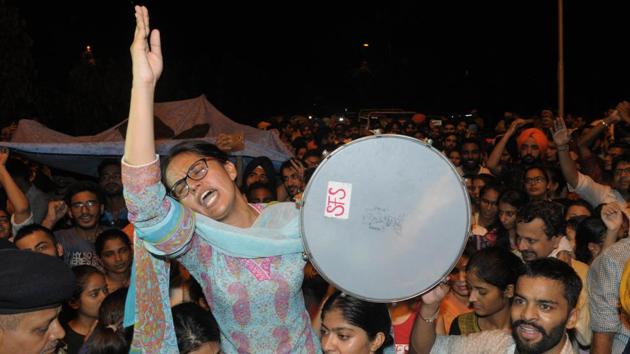 Updated on Sep 07, 2018 11:53 AM IST
Hindustan Times, Chandigarh |
Yuvraj Kaushal and Arshdeep Arshi
Kanupriya, 22, has been elected the first woman president of Panjab University Campus Students' Council (PUCSC) on Thursday. A member of the left-leaning student wing Students for Society (SFS), she defeated five male candidates fielded by Akhil Bharatiya Vidhyarthi Parishad (ABVP), Students Organisation of India (SOI), National Students Union of India (NSUI), Panjab University Students Union (PUSU) and Punjab Students Union (Lalkaar).
Over 15,000 students voted on Thursday to elect the four office-bearers of the Panjab University Campus Students' Council (PUCSC) amid allegations that the authorities failed to act against the Akhil Bharatiya Vidyarhti Parishad (ABVP) for poll code violations.
A total of 21 candidates were vying for the posts of president, vice-president, general secretary and joint secretary, with six in the fray for the top post, including a girl candidate from the Students for Society (SFS).
Meanwhile, 43,000 students also elect their representatives in the student councils of nine colleges in the city. However, student parties had feared a low turnout this year, as in the past one week the varsity was hardly open due to holidays.
On posts of secy, joint secy, NOTA takers higher than winning margin
In what may be seen as a worrying development by political parties, especially with general elections due next year, the Panjab University Campus Student Council (PUCSC) elections saw a marked increase in takers for the 'None of the Above (NOTA)' option this year.
Introduced in the 2016 student council elections, NOTA, also known as "against all" or a "scratch" vote, is designed to allow voters to indicate disapproval of all of the candidates in the fray.
What is more significant is that for the posts of secretary and joint secretary, the number of votes polled in favour of the NOTA option is more than the winning margin. For the secretary's post, 990 votes (10.51%) were in favour of NOTA, which is three times more then the winning margin of 333. On the other hand, the winning margin of Vipul Atray, who polled 2,357 votes for the post of joint secretary, is just over 100 votes, while as many as 879 (9.39%) chose NOTA. For the posts of president and vice-president, as many as 209 (2.20%) and 667 (7%) opted for the NOTA option.
Interestingly, the maximum number of takers for NOTA were in the departments of University Institute of Engineering and Technology (UIET) and University Institute of Legal Studies (UILS). Of total 879 polled for NOTA on the post of joint secretary, 100 were in UILS and 104 in UIET. On the secretary's post, out of the 990 NOTA votes, 188 were in UILS and 92 were in UIET.
The new student council
President
Kanupriya, 22
Students for Society
Department: Zoology
Votes secured: 2802
Winning margin: 719
Vice-president
Daler Singh, 21
Students' Organisation of India alliance
Department: Geology
Votes secured: 3,155
Winning margin: 928
Secretary
Amarinder Singh, 20
Students' Organisation of India alliance
Department: University Institute of Engineering and Technology
Votes secured: 2,742
Winning margin: 333
Joint secretary
Vipul Atray, 19
National Students' Union of India
Department: UIET
Votes secured: 2,357
Winning margin: 83
Close Story