Senior journalist KJ Singh, mother murdered in Mohali
Sep 24, 2017 10:50 AM IST
Police said KJ Singh (right) was found with his throat slit, while his mother, Gurcharan Kaur, is believed to have been strangled.
Senior journalist KJ Singh and his mother Gurcharan Kaur were found murdered at their house in the heart of Mohali on Saturday afternoon.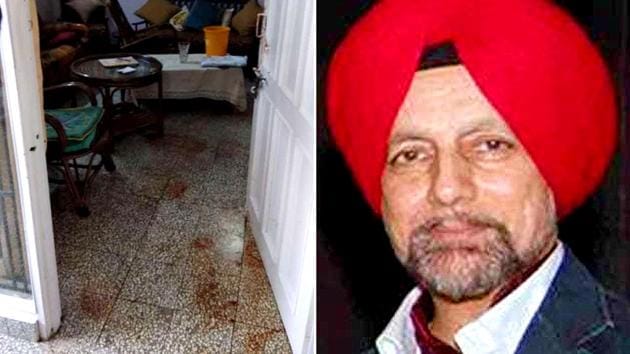 Mohali senior superintendent police Kuldeep Chahal confirmed the double murder in Phase 3B2 and said the motive was being investigated.
Police said KJ Singh was first stabbed in the stomach as he opened the door to the assailant. The trail of blood led to the room where he was found dead. After that his throat was slit.
His mother, Gurcharan Kaur, who was bedridden, was strangulated to death.
Singh, a bachelor, was a former news editor of the Indian Express, The Times of India and The Tribune in Chandigarh.
The murder came to light around 1pm when KJ Singh's sister Yashpal Kaur and her son, Ajay Pal, a staffer with The Times of India, came with lunch for the two. They found the main door with blood stains bolted from outside.
The police said Singh's part-time house help, Rekha, rang the bell at 9am as usual but returned from the gate when no one answered it. She came back an hour later but left without entering the house.
Singh's green Ford Ikon car and an LED TV are missing.
The senior journalist, who was freelancing for a Canadian magazine, had a studio with recording equipment in the house. The police are yet to ascertain if anything is missing from the studio.
The police are scanning CCTV footage from a camera installed two houses away.
Police sources said KJ Singh had last talked to his elder brother, who stays in Chandigarh, on Friday evening. They said the murder appears to be the handiwork of more than one person.
The incident has left the media fraternity of Chandigarh and residents of the area shocked.
SIT formed
On directive from Punjab chief minister Amarinder Singh, police set up a special investigation team (SIT) to probe the double murder.
Shiromani Akali Dal (SAD) president and former deputy chief minister of Punjab Sukhbir Badal tweeted his condolences: