Vehicles, industries turn Dhanbad air poisonous
Updated on May 13, 2016 11:35 PM IST
Already struggling with the tag of India's dirtiest city, now Dhanbad's air is not safe to breathe, revealed a World Health Organization (WHO) that has ranked the city 38th in the list of 100 most polluted cities across the world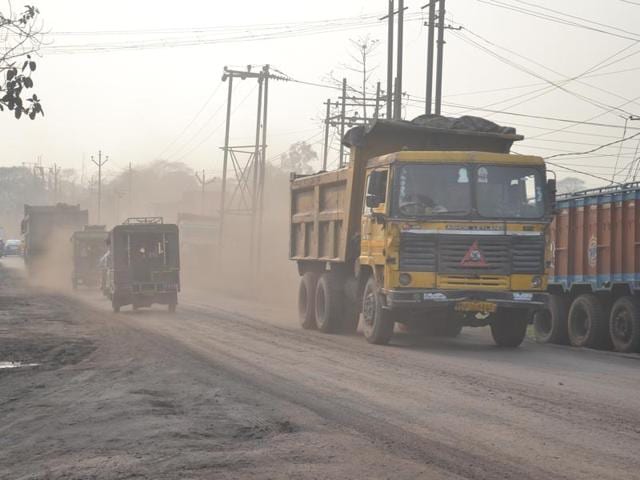 Already struggling with the tag of India's dirtiest city, now Dhanbad's air is not safe to breathe, revealed a World Health Organization (WHO) that has ranked the city 38th in the list of 100 most polluted cities across the world.
The WHO report released on Thursday, said that the concentration of particulate matter (PM) in Dhanbad was recorded 95 microgram per cubic metre of air, nearly five times the WHO safety limit of 20 and more than two times the Indian standard of 40. The WHO considered the annual average concentration of the particulate matter (PM) 2.5 and is based on data collected in 2012.
Environmentalists and pollution control authorities blamed the growing number of coal mines, mushrooming coal-based industries, power plants, hard coke units and vehicular emissions for the rise in city pollution.
Long term exposure to tiny particulate matter can cause lung cancer, strokes and heart diseases well as triggering symptoms such as heart attacks that kill more rapidly, health experts said.
In 2010, Dhanbad ranked 13th among the 43 "critically polluted industrial" areas of the country, after which the Union environment ministry imposed a moratorium on new industry in 2011. The ban, however, was lifted in January 2014 after the Jharkhand state pollution control board introduced a number of measures to check pollution from hard coke and other industrial units.
A study by city-based environmentalists, show that the pollution levels in Dhanbad is still above the permissible limit.
"The PM 2.5 still varies between 70 and 90 microgram per cubic metre of air in different parts of the city," said SK Gupta of Indian School of Mines, Dhanbad.
He further said that vehicular emissions, coal-based industries and opencast mines, are the prime agents for increasing pollution in the city.
"Until commercial activities are revised and new technologies are introduced to transport coal, pollution control will be a tough task," he said.
More than 5,000 trucks are engaged every day in more than 56 opencast mines belonging to Bharat Coking Coal Limited, said AK Jha, general secretary of Rashtriya Colliery Mazdoor Sangh. "In other mining cities like Singrauli, Bilaspur, coal transporting and public roads are separated but in Dhanbad, coal is transported on public road," he said.
A recent environment audit report on air pollution by the Comptroller and Auditor General (CAG), tabled in the Jharkhand assembly during the budget session, stated that the situation was turning the worse in Jharkhand cities, including Dhanbad, where the increasing number of vehicles has raised pollution levels.
The CAG report said that in 2014, Dhanbad recorded respirable suspended particulate matter (RSPM) of 218.13 micrograms per cubic metre of air against the permissible limit of 100 ug/m3.
Admitting that Dhanbad is Jharkhand's most polluted city, member secretary of Jharkhand state pollution control board SK Suman said, "The situation was worse in 2011, but it has improved in past four years with introduction of a number of pollution control measures."
He said that strict guidelines for hard coke industries and coal washeries have been implemented. "We started online pollution monitoring of big industries. Coal washeries were directed to maintain zero discharge of liquid and recycle used water," he said, adding that the situation has improved but more initiatives are still required.