Well-off people forced to surrender 11,000 ration cards in Ranchi
Special Drive: The district administration seized the ration cards from over 47000 non-eligible persons, including teachers, advocates and govt employees; people in slums found lacking cards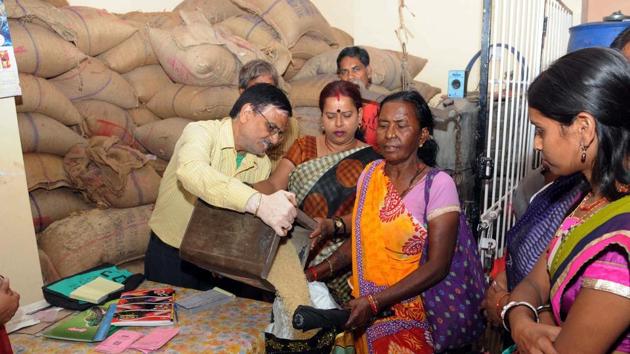 Updated on Nov 24, 2018 10:44 AM IST
Over 47,000 well-heeled people, enjoying the benefits of subsidised ration meant for poor, surrendered about 11,000 ration cards after a series of drives launched by the Ranchi administration.
The administration convinced non-eligible persons, under national food security act (NFSA), to withdraw their names from food rights of poor people and surrender their ration cards through various campaigns, in last three months.
Thousands of well-off people, including advocates, teachers and government employees, were caught availing subsidised ration during the campaigns. In Ranchi, as many as 19.87 lakh people are entitled to 5 kg rice every month at a subsidised rate of Re 1 under NFSA, launched in October 1, 2015.
"Despite meeting the entitlement target, several eligible persons made rounds of block and district offices for subsidised food. Several slums were also found in Ranchi where people did not have ration cards. Then, we thought of launching a special drive, which started on August 15, to identify non-eligible persons availing subsidised ration," said Narendra Gupta, district supply officer (DSO), Ranchi .
The administration sought self-declaration from beneficiaries, in which they had to certify that they are eligible for subsidised ration. "This step had a greater impact and over 8,000 non-eligible persons surrendered their ration cards," Gupta said.
Thereafter, the administration started identification of non-eligible people and sent legal notices to them. The last major step was imposing fine on non-eligible persons availing subsidised rations. On Thursday, three persons were slapped a fine for ₹1.11 lakh and a ration dealer was also showcaused for allegedly hiding details of these beneficiaries.
"So far, 16 notices of fine have been slapped. Five ration dealers were also suspended for not disclosing names of non-eligible persons," Gupta said, adding, the drive is still on.
The drive helped creating over 11,000 ration card vacancies. The district supply office has so far received over 6,000 fresh applications from eligible persons under NDSA seeking ration cards.
"First such case, where a government employee was availing benefit of subsidised food was reported from Palamu in June. Thereafter, we issued a notice asking people, who are not eligible under NFSA, to surrender ration cards," said FPD secretary Amitabh Kaushal, adding, a reminder notice would again be published in a day or two. All districts have been asked to launch such drives, he said.
Topics
Close Story
Personalise your news feed. Follow trending topics