Damage control: How to avoid mishaps when renovating your home
Sep 09, 2017 10:38 PM IST
Replacing grilles and flooring may sound harmless, but engineers say even minor repairs can weaken a structure.
Do you know how much your box grille weighs? Has your contractor done any calculations to check that the wall below it can take that weight?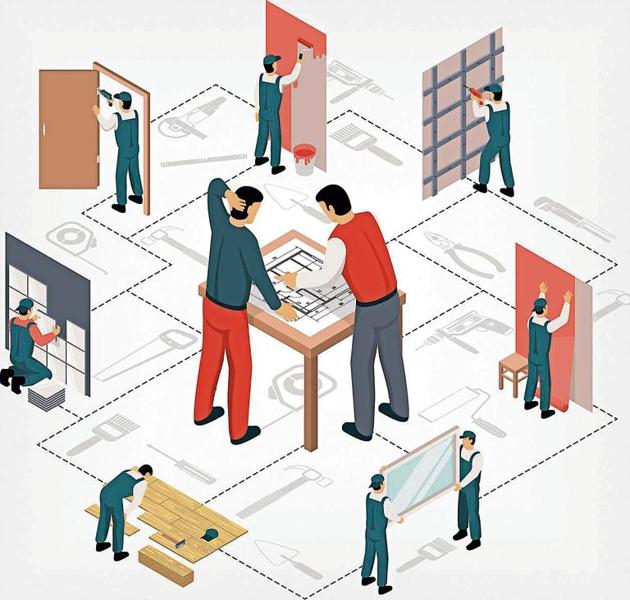 This is a prime example, say structural engineers, of how renovation and beautification efforts that seem harmless can go horribly wrong.
Stay tuned with breaking news on HT Channel on Facebook.
Join Now
The As Built drawings, AUTOCAD prints and blue prints are not just a formality but important papers to refer to before you take up any repair works in your house. Most people don't realise this.
"Having a sense of these drawings is so important, they help you know where exactly the columns and beams are and you don't end up damaging them, know that even changing the light fixtures can cause harm if you are unaware of the structure of the building as most people are," says Pranay Goyal, MD, Wedevelopment, a management solution company that specialises in self-redevelopment of societies.
Recently, a building in Ghatkopar collapsed killing 17 people. Residents blame a political leader for the collapse. "The political leader tried converting the building to commercial use in 2009 and starting a hospital on its ground floor," residents say in an HT report. "He then planned to convert the hospital into a guesthouse. The renovation work for the guesthouse weakened the building leading to its collapse." The changes you do to the structure, hence, weakens your building.
As with the box grilles, changes you make to the dry yard, walls you replace and even flooring renovations can, in long run, weaken your building. Ceilings can cave, cracks can form in walls, leading to destructive leakages.
"Even concealing an electrical socket can be harmful — it requires chiselling of beams and columns walls, and that doesn't sound harmless, does it," says Pooja Bihani, architect and founder of the Spaces & Design interiors and architecture firm.
Riddhi Garden in Malad learnt of these risks the hard way.
Renovations by some residents caused leakages in other homes and could have weakened the structure as a whole, over time. "There are a set of permissions you need to take as a resident before beginning any renovation work in your house," says Nitin Kulkarni, member of the managing committee of the society. "It is not possible to check personally on each change people make in their homes, so people need to understand the importance of these rules, abide by them and correct the problems in case any occur."
Kalpataru Towers in Kandivli has gone a step further and instituted rules for preventive care.
"We do not permit people to put in their own window grilles," says Kumar Vasani, secretary of the Kalpataru Towers society in Kandivli. "You also cannot alter internal layouts, make changes in the dry yards and move plumbing outlets. Residents don't realise it, but they could be shortening the life of the building with such changes. If homeowners break the rules, we take strict action."
Check the boxes
Renovations must also be undertaken with care, especially as a building ages. "Especially in a city like Mumbai, with a humid climate, buildings age faster. Your building may not be as sturdy as it seems," says Bihani.
Creating a window or drilling to put up a partition without detailed plans, permission and accredited supervision should be complete no-nos, says Ramesh Prabhu, chairman of the Maharashtra Societies Welfare Association.
When Kanchan Pant, 28, was renovating the kitchen in her Bhandup home, a slab from the wall suddenly fell on her. "I was taken aback," she recalls. "Upon inspection, we found that we had been drilling do deep in the ceiling and walls that we had weakened parts of the structure," she says.
Use plaster sparingly too. Don't cover up the problem, because it will grow out of sight and you may not even remember it's there.
"Any concealing or repair works should be carried in presence of a structural assistant, someone who knows and understands buildings," says Sanjay Bahadur, CEO of the construction chemicals division at Pidilite Industries. "Don't cut corners when it comes to material. The corridors, hallways and staircases of your building can be maintained using the monthly fees collected. Ensure that standard materials are used in all repairs. Supervise adequately and hire trained staff for all building work."