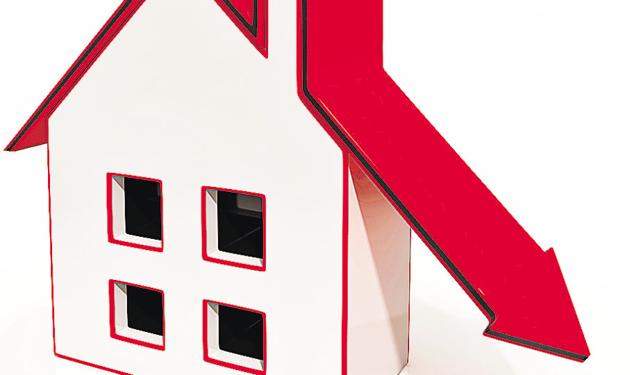 Virtually no property transactions in premium Delhi areas
Sellers have slashed property prices by 25% to 35%, with some indicating their willingness to cut prices further. Even then,buyers are staying away
By Arati Bhargava
PUBLISHED ON DEC 28, 2016 05:04 PM IST
Though queries from potential homebuyers, especially those looking for homes of their own have increased, no one is actually buying property. This is happening even when prices of bungalows and even smaller housing units in Central and other premium areas Delhi – listed at Rs 400 crore and above – have crashed by 30% after demonetisation, say realty agents. No one's ready to pay the kind of rates expected in Delhi's premium areas in white money.
Land and property transactions here are customarily done with cash, depending on the property and area it is situated in. The cash cheque ratio could be anywhere between 80:20 to even 60:40.
Till November 8, properties in premium areas were available and much sought-after for parking black money. After demonetisation hoarders of cash got busy sorting out their financial problems and real estate transactions were impacted as deals could only take place through cheques. "Demonetisation came like an electric shock to property transactions and virtually brought property sale and purchase to a standstill," says Devender Tara of Tara Estates based in Vasant Vihar. This has never happened before and it is likely to take three to four months or more for the real estate business to revive.
During the last month, where his business is concerned, Tara says there has been "total silence" on the property transaction front. The reaction of those who wanted to sell properties has been mixed. Sellers he knows have slashed property prices by 25% to 35%, with some indicating their willingness to cut prices further. Even then, many buyers are staying away.
The price tag of Rs 600 crore for a 8,000 sq yard plot in Tughlaq Road has been trimmed by the owner to Rs400 crore. In Vasant Vihar a basement and ground floor of a 430 square yard building priced at Rs12 crore is now on offer at Rs 9 crore.
Property agent Gaurav Goel lists out five properties in Golf Links – three built on plots of 375 sq yard each and two on 575 sq yard plots each – which are now being offered for less. One owner of the 575 sq yard plot is now ready to sell his Rs100 crore property for Rs75 to Rs80 crore.
Sudarshan Sharma of SDR Real Estate Agents in Anand Niketan says in the 30 years that he has been in business, it's for the first time that even non-resident Indians are showing no interest in properties. In areas like Shanti Niketan, Anand Niketan and West End the number of properties available on sale are relatively few. Although the owners have trimmed their price demand the buyers have yet to come forth, adds.
It's apparent that both property sellers and buyers are biding time and waiting for things to improve. Real estate experts also feel that the government's explicit declaration that benami property would be on the hit list soon has led many to expect a further climbdown in property prices. This they feel is bound to happen as benami property owners would like to sell their holdings as soon as possible at whatever price they can get to stay out of trouble.
The silver lining in the general seemingly dismal fallout is that at last property prices which had become irrationally exorbitant could rationalise.
The writer is a senior columnist.
Close