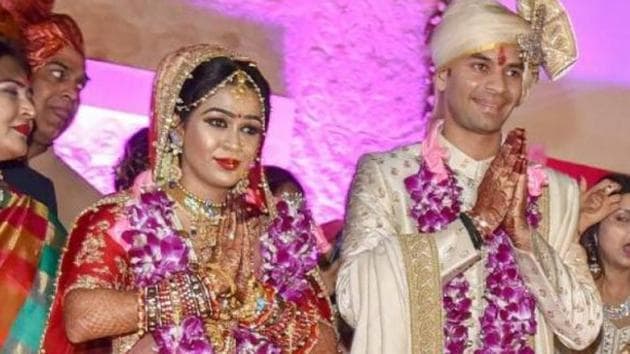 Lalu ignores son's 'troubled' marriage, likely to field Chandrika Rai from Saran
The Saran seat (Chapra parliamentary seat till 2004) is considered the traditional seat of RJD's first family and has been represented four times by Lalu.
PUBLISHED ON MAR 13, 2019 08:30 AM IST
Lalu Prasad's elder son Tej Pratap's marriage with Aishwariya Rai may be on the rocks, but that has not deterred the RJD chief from maintaining warm ties with his "samdhi" and senior party leader Chandrika Rai.
Indications are that Rai, father-in-law of Tej Pratap and a former minister, is likely to be the party's candidate from the prestigious Saran parliamentary seat in the upcoming Lok Sabha polls.
The Saran seat (Chapra parliamentary seat till 2004) is considered the traditional seat of RJD's first family and has been represented four times by Lalu. His wife Rabri Devi unsuccessfully contested from the constituency in 2014 Lok Sabha polls, losing to BJP's Rajiv Pratap Rudy.
A formal announcement about Rai's candidature is likely to be made in the next few days after the seat sharing arrangement in the grand alliance (GA) comprising RJD, Congress, RLSP and other smaller allies is finalised.
Reached for comment, Rai did not confirm or deny the reports about his candidature from Saran. "Everything will be clear within next two or three days," he said.
Rai, son of former chief minister of Bihar Daroga Prasad Rai, had entered into family ties with Lalu's family after getting his daughter Aiswariya Rai married to Tej Pratap in May 2018. But the matrimonial alliance between two big Yadav families in Bihar came under strain last November when Tej Pratap shocked his family by announcing to take divorce from his wife.
Tej Pratap filed a divorce petition on November 2, 2018, and the matter is in court.
Reliable sources in the RJD said that incarcerated Lalu, undergoing medical treatment in RIMS, Ranchi, had already given his nod to field Chandrika Rai from the Saran seat.
Sources said the party had also weighed options of fielding former chief minister Rabri Devi from the seat , but finally decided on Chandrika Rai in the Yadav dominated seat. They said the move would help neutralise negative sentiments among Yadavs against the RJD's first family in the constituency following Tej Pratap's decision to divorce his wife.
According to RJD's poll managers, Tej Pratap's decision to file for a divorce had not gone down well among the Yadav voters in the constituency, especially some sub-castes in the caste group in Chapra, which could affect the poll prospects of the RJD in its own pocket borough.
"Fielding Chandrika Rai is a smart move as the former minister is a popular face in the constituency and has wide support among his caste, including in the sub-caste to which he belongs. That could help the RJD take on the BJP in the key constituency where it is not a cakewalk for any candidate," said a senior RJD leader.
Meanwhile, sources said the decision to field Lalu's eldest daughter and Rajya Sabha MP Misa Bharti from the RJD stronghold of Patliputra was almost final.
Misa , having unsuccessfully contested the seat in 2014 parliamentary elections, has already started campaigning in the constituency, sources said.
The decision may upset RJD's Maner MLA Bhai Virendra as he himself was eyeing the seat.
Saran seat
2008: The constituency came into being
2009: Lalu Yadav defeated Rajiv Pratap Rudy of BJP
2014: BJP's Rudy defeated RJD's Rabri Devi
Topics
Close