Wenger to help India build data-driven football scouting system
Jan 08, 2023 09:17 AM IST
All India Football Federation president Kalyan Chaubey and secretary-general Shaji Prabhakar unveiled an elaborate vision for the next 25 years to build the game in the country
Four months since taking charge of the All India Football Federation (AIFF), president Kalyan Chaubey and secretary-general Shaji Prabhakaran presented a roadmap for Indian football on Saturday.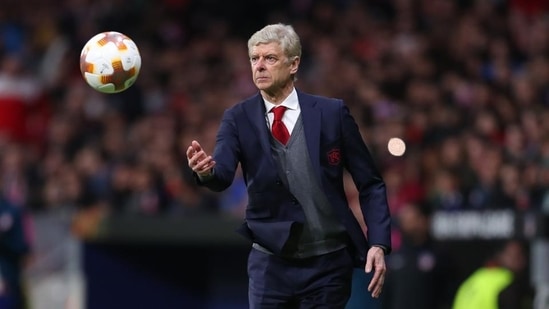 Titled 'Vision 2047', the 94-slide presentation sets out a path for Indian football to become a dominant force in Asia by the country's 100th year of independence. The targets include rising to the top four in Asia, having one of the top three leagues in the continent and producing a star player in both the men's and women's game.
Also Read | 'Bruno Fernandes can only perform without Cristiano Ronaldo': Ex-Man United star
Among the 11 core areas identified by the federation — symbolising the number of players on a football pitch — the emphasis was laid most on 'Talent Identification and Development'. AIFF informed that former Arsenal manager Arsene Wenger will personally devote time to put in place a data-driven scouting system for the national team.
"Wenger has already assigned work to his team members to come to India. We can initiate the Talent Development Scheme in India by February, which will help us find more players. We are going to work on this project with the help of FIFA. We will be scouting players on a scientific basis," Prabhakaran said during a media interaction here.
Wenger, who took Arsenal to three Premier League titles during his tenure from 1996 to 2018, is now FIFA's Chief of Global Football Development. AIFF administrators said they will provide more details of Wenger's involvement next month.
Elaborating on how their approach will be dictated by data, Prabhakaran said: "The data driven approach is very comprehensive. It won't be specific to players. It will influence every aspect of football. That way, we will be able to come to the right decision. Data means objectivity. But right now, we don't have the data with us. We need to put the right structure in place so that we have access to the data."
The AIFF process has been divided into six four-year strategic plans. The period till 2026 will form the first cycle.
Chaubey, who beat Bhaichung Bhutia to take over as president in September, underlined the need for developing a national football philosophy.
"Instead of playing the way a foreign coach — be it from Croatia, Brazil or England — tells us to and changing our style, we need to have our own philosophy. Our physical structure, climatic conditions and average body weight are different. We cannot play like Europeans or Africans. We need to understand what we can do with the players we have," Chaubey, a former goalkeeper, said.
"We have to grow the talent beyond a few states. Only Bengal, Goa and Kerala are largely producing players for the national team. That shouldn't be the case. Football is played everywhere in India. We need to have more players from other places," he added.
A notable decision of the new panel was to withdraw India's bid to host the 2027 AFC Asian Cup. It seems to be a shift from the previous Praful Patel-led administration, which sought to stage marquee events. India hosted the U-17 men's World Cup in 2017 and the U-17 women's World Cup in 2022. Prabhakaran said hosting the continental event wouldn't have fitted in with their objectives.
"We don't want to look back. But within our strategy, hosting such an event isn't a focus. It is consistent with our roadmap. We haven't said anything about hosting big events right now. Maybe in future, we might look into it," Prabhakaran said.