Paying out of pocket to crowdfunding, Wales' journey to World Cup
Jan 13, 2023 10:56 PM IST
With limited budgets and resources, the World Cup debutants are forced to bear the costs to play tournaments
With most Indian players coming from humble backgrounds, it's always a struggle to make the cut for the national team. But importantly, once they reach the national setup, all their needs — be it accommodation, travel, food, daily allowance et al — are taken care by the authorities.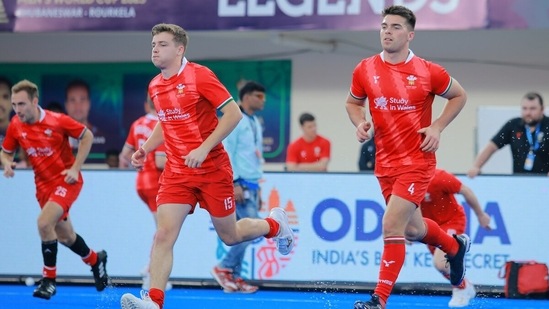 But not everyone is that lucky.
Also Read | India Vs Spain Highlights Hockey World Cup 2023: IND seal 2-0 win vs ESP
The Welsh hockey team, making its World Cup debut 128 years after playing their first international, is one such outfit where players have to quite literally pay to play, bearing the costs involved to play tournaments. The further the distance of the venue from Wales, the longer the event, the more money the players have to spend.
"Hockey in Wales is a small sport. (When we play) our national stadium contains about 200 people which is a little bit different to the one we are at (20,000-capacity)," laughed Wales head coach Daniel Newcombe.
"Our funding from the government is limited and due to our recent success, we have obviously qualified for a lot of bigger tournaments which means more trips. Whilst the government has been really helpful, like we have a shirt sponsor now, there is a gap between the costs and the budget."
Every Welsh player pays more than £1,000 ( ₹99,000 approximately) per year to play for the country regularly. Some even contribute close to £2,000 ( ₹1,98,000 approximately). But even that falls short.
To meet the costs, Hockey Wales (HW) introduced a new measure to raise funds — crowdfunding. The federation initiated the measure late last year, asking fans to donate whatever they can to be able to travel to the World Cup. The initiative is still active and those willing to contribute can do so via the HW website.
"We need to get in the public eye, get exposure, get sponsors to keep moving forwards. From 36th in the world, we've now reached 15th. And we're not done yet," added Newcombe.
Wales have had a dramatic rise into the top 15 in the world. Though they won a bronze at the 1908 London Olympics, they were playing in the third tier of European hockey till the last decade. But significant victories elevated them, first, to the second level before reaching the top recently. Their success has also coincided with the rise of the Gareth Bale-led Welsh football team with the outfit qualifying for the recently concluded 2022 World Cup after a gap of 64 years.
"It's been a great year for sport in Wales and it is going to continue. Hopefully, we can progress slightly further than we did in the football World Cup," said Wales skipper Rupert Shipperly. Wales exited the FIFA World Cup in Qatar in the group stages, failing to win even a single match.
Sacrifice of players
But the rise of Welsh hockey has come at a price. All players are employed or have businesses to keep their house running, only getting time during weekends when everyone converges in Cardiff to practice as a team. On Mondays, they are back to their regular jobs.
"The players are here for the right reason. They are so committed that they give up what they have— all have got jobs and they take unpaid leaves. It doesn't get spoken about but it's been happening for 12 years I have been coaching," said Newcombe. "It adds a bit of fuel to the fire. We are not here to make money but just to play hockey with our mates."
Though Wales lost 0-5 to neighbours, Great Britain teammates and arch-rivals England here on Friday, it doesn't bog them down. They still have two chances — against Spain on Sunday and versus hosts India on January 19 — to prove themselves.
"We are not here to make an experience and make numbers. We are here to compete, to give us the best chance of winning. We have the game plans, we have done training, the moment whistle goes, it's a game of hockey on the pitch. We are here to win some hockey games. That is how we will approach it. There's no pressure on us so we can come out swinging," concluded Newcombe.