India women lose to Taipei in World team TT
Oct 05, 2022 10:40 PM IST
Teenager Diya Chitale stretched her superior rival before Chinese Taipei won the last 16 tie 3-0, though it was a creditable performance overall by India
Walking back towards her seated teammates, Diya Chitale threw up her towel and caught it. Leading 2-1 in the must-win third rubber, the teenager knew she had squandered an opportunity to pull her team back into the contest.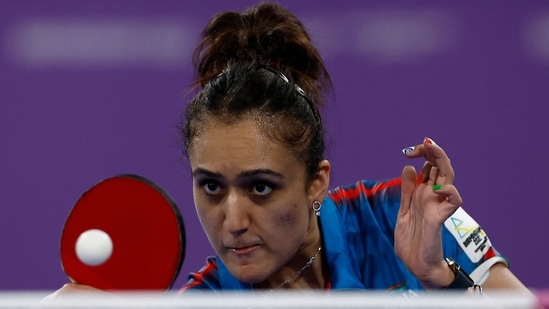 Diya lost 3-2 and the Indian women's team 3-0 to Chinese Taipei in their World Team Table Tennis Championships Round of 16 tie in Chengdu, China on Wednesday. It ended the women's campaign in which they registered two clinical victories in the group stage and lost 3-2 to Germany to qualify for the knockouts.
India had their task cut out against seventh-ranked Chinese Taipei. It was made harder after Manika Batra was blown away in the opening match by world No 22 Chen Szu-Yu (7-11, 9-11, 3-11). A couple of long backhands at 9-9 in the second game proved costly for the India No 1.
That left Sreeja Akula with the task of again punching above her weight. The 24-year-old had beaten three top-50 players in the group matches, but couldn't repeat against the 35th-ranked Cheng I-Ching, losing 8-11, 11-5, 6-11, 9-11. Her forehands did plenty of talking in the second game, but went quiet thereafter.
Up against world No 71 Liu Hsing-Yin, young Diya raised hopes of a comeback before the experienced Hsing-Yin shut it down. After losing the first game, Diya began bossing the rallies, twitching, turning and jumping from way behind the table to pull off winners. Taking the second game 11-9, Diya raced to a 7-2 lead in the third before Hsing-Yin came crawling back. At 9-9, a couple of solid points rounded off by a neat backhand did it for Diya.
After Hsing-Yin levelled it up in the fourth game, Diya netted a backhand and missed a forehand early in the decider, her body language transmitting signs of frustration. From 3-6 she made it 6-6 after winning a lengthy forehand tussle, but a couple of shots that sailed long handed Hsing-Yin the match and Chinese Taipei a spot in the quarter-finals.
From finishing 17th in the previous edition in 2018 to qualifying for the knockouts in Chengdu, it was a decent uptick in the performance of the young women's team. Running Germany close in the first group game was the highlight, victories by Sreeja and Diya in it standing out.
After two disappointing defeats against the Germans, Manika did bounce back in the next two ties but couldn't quite inspire her troops when it mattered most. Sreeja's giant-killing show—she won four of her six matches—was the biggest takeaway. If she can maintain this level, she could make rapid strides in the international circuit. Ditto with the 19-year-old Diya (two wins and defeats each), who showed glimpses of her potential, and why she was picked as the team's third member in her fledgling senior career.
Topics