Wrestling with the big problem in Indian sport
Jan 20, 2023 08:45 PM IST
The biggest disappointment in the face of the wrestlers' protest has been the response of the Athletes Commission (AC), and beyond them, of the wider athletic community
On December 12, there was much celebration over the onset of an athlete-centric age in Indian sports governance. PT Usha was named president of the Indian Olympic Association (IOA), and under a new IOA Constitution, the first-ever 10-member athletes' commission (AC) was elected with MC Mary Kom as its head. A month later, when some of the country's most decorated wrestlers are sitting in protest at Jantar Mantar accusing their federation boss of sexual and psychological harassment, and his cronies of issuing death threats, India's new athletic leadership is left with muttering homilies.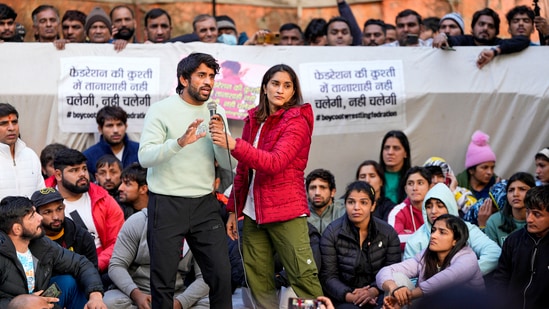 PT Usha's Twitter message arrived 24 hours after Vinesh Phogat, Bajrang Punia and Sakshi Malik made their first statements against Wrestling Federation of India (WFI) president Brij Bhushan Sharan Singh. And when it did, Usha asked the athletes to "come forward and voice their concerns to us", and announced that the IOA will "form a special committee to deal with such situations that may arise in the future for swifter action".
According to IOA's website, it already has a sexual harassment prevention committee made up of Sudarshan Pathak, Rani Tiwari, Sudha Tokas, and Ashok Dudhare. But how the panel is dealing with the issues raised by the wrestlers, and what powers it can exercise, are still unclear.
But the biggest disappointment in the face of the wrestlers' protest has been the response of the Athletes Commission (AC), and beyond them, of the wider athletic community.
Even as the number of protesting wrestlers grew on Thursday, the AC -- with several Olympic medallists and legends of their sport -- was neither heard nor seen. The fears expressed when the electoral college was shrunk from 42 to 10, with many stories about late-night meetings, now appear to be true: that India's Olympic AC is just a flash new post office with a powerful sound system that does little more than send a token message about athletes' participation.
The Indian wrestlers' protest is the biggest pushback by athletes against federation misgovernance in a quarter of a century in the country -- after the 1997 rebellion by leading players against the Badminton Association of India. In the time since, while Indian sport and indeed athletes have changed and been transformed. What has remained the same is the mindset of the majority who hold high office in Indian sporting bodies, and of those who enjoy their favour.
In the age of social media, most leading athletes across Indian sport have not responded to the wrestlers' hard accusations. Never mind showing up at Jantar Mantar, the social media feeds of the stars from sport outside wrestling have fallen silent.
We don't expect other federation bosses to go after their own. But had the badminton players in Delhi for the Indian Open, for instance, somehow indicated to the wrestlers that they are not alone – it could have sent a powerful message.
Indian sport is riddled by power imbalances with the federation heads considering themselves zamindars with a cavalcade of factotums in tow, lower-level office-bearers, coaches, and officials – many of whom believe they own not just their sport but its athletes as well. Psychological or physical threats on young athletes to do as told or else, sexual favours for selection, denial of entry to events, ruining their careers, and expecting them to touch feet and pay obeisance to some official or coach -- who has not heard of this in Indian sport? The accusations against Brij Bhushan Sharan Singh are just a neat capsule of the ugly underbelly.
The stories of his excesses have been documented earlier in news stories – slapping young wrestlers, interrupting trials to have some holy men bless wrestlers, banning Vinesh and Sonam Malik post-Tokyo for feeble reasons (like Sonam asking someone else to collect her passport from the WFI office rather than go over personally and fall at the federation's feet). He deals with all allegations in the same manner: with a heavy hand.
First denial, then saying only 3% of wrestlers are against him, then accusing an unnamed industrialist of being behind this conspiracy, and then saying he will hang himself if a charge is proved.
There is another strand running underneath the story – that of a political fight between the BJP and the Congress, and even within the BJP. But, whatever the trigger, it does not mean that the wrestlers' accusations are fiction. Vinesh's teary shaking voice was real, as was the bowed head of the wrestler behind her who had her hand on Vinesh's shoulder.
The problem goes beyond who is in power at what level. Each government, at every level, from 2011 onwards – when the National Sports Code kicked in -- has had the power to de-recognise sports federations that disobey criteria pertaining to governance or financial irregularities. But governments have chosen not to take action because the people under fire are often their own.
That the wrestlers have appealed directly to the Prime Minister, and the home minister, and held a midnight meeting with the sports minister, shows their helplessness and desperation. The wrestlers know that people up and down the line are unlikely to stand with them, and only those in the highest offices in the land can bring the WFI president down. Not a good advertisement for the "transformed" Indian sporting system.
Enjoy unlimited digital access with HT Premium
Subscribe Now to continue reading