No 14 for the Master of Paris
Jun 05, 2022 11:37 PM IST
Rafael Nadal eases to his 14th French Open title, and a record-extending 22nd Grand Slam title, with a straight sets victory over young Norwegian Casper Ruud
June 5, 2005: Rafael Nadal, two days after celebrating his 19th birthday with a semi-final win at the Court Philippe-Chatrier, kisses the Musketeers cup for his first French Open title.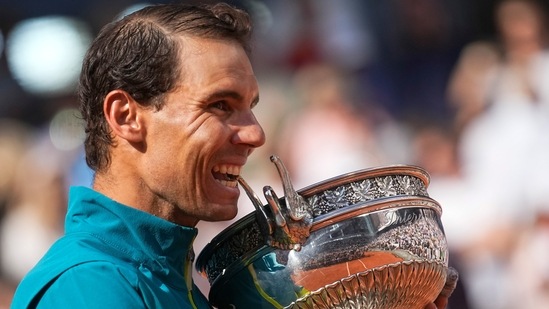 June 5, 2022: Nadal, two days after celebrating his 36th birthday with a semi-final win at the Court Philippe-Chatrier, kisses the Musketeers cup for his 14th French Open title.
Some things just don't change, do they? Not least in one of the greatest sporting love affairs.
Nadal's romance with the Parisian dirt has not only stood the test of time, but also a steadily dismantling body. Yet, none of it seems to really matter when Nadal—a rib injury and a lingering foot issue have eaten up precious matches on clay this season—turns up at Roland Garros. He almost invariably walks away a champion.
Also Read | 'What an ambassador to our amazing sport': Tennis icons celebrate Rafael Nadal's 14th French Open triumph
Like Nadal did for a 14th time on Sunday after easing past first-time finalist Casper Ruud of Norway 6-3, 6-3, 6-0 for a record-extending 22nd Grand Slam. It now puts him two ahead of his co-GOAT contenders, Novak Djokovic and Roger Federer, after pocketing the season's first two Slams (don't forget the great comeback Australian Open triumph just months ago) for the first time ever in his career. The oldest French Open men's singles champion now, he continues to script fresh firsts with inspiring frequency.
The final test wasn't as gruelling as the three preceding it for Nadal, where he collectively spent nearly 12 hours on court chasing down every point on a foot that could have given up any moment. But when Nadal threw the racquet after his final point of the tournament, his emotions, oozing in the form of tears, showed up.
"It's completely amazing the things that are happening this year," Nadal said in his on-court speech after collecting the trophy. "It's something that I, for sure, never believed (that) I'll be here at 36, being competitive again, playing in the most important court of my career, one more time in the final. It means everything to me."
Also Read | 14th French Open, 22nd Grand Slam: List of all records Rafael Nadal scripted with record-extending haul at Roland Garros
Just competitive? Nah, Nadal was at his dominant self through the last two weeks. Ask Felix Auger Aliassime or Novak Djokovic or Alexander Zverev, who all delivered some of their finest clay-court tennis only to still fall short against the fiercest fighter. If it was beyond them, it most certainly was for Ruud, the world No 8 who hadn't even beaten Nadal in a practice set while training together in the latter's academy in Mallorca.
The 23-year-old knew he'd have to play his "best tennis ever" to challenge his idol in their first competitive meeting. Ruud was far from it, especially at the start. The Norwegian allowed Nadal to dictate from well inside the baseline, playing balls parking himself far behind. A signature passing shot off the forehand earned Nadal the break in the second game. But the Spaniard too was nowhere near his sharpest yet, his two double faults in his next service game handing Ruud the break back and an unlikely lifeline. It was snuffed out immediately with a string of errors by Ruud. The break advantage restored at 3-1, Nadal began to find those scorching forehand sizzlers while also winning the cat-and-mouse exchanges at the net as he neatly wrapped up the first set.
Ruud though gradually grew in confidence and found shot variety, increasingly striking from the inner side of the baseline. His serve was under the pump again in the opening game of the second set but he managed to ward off three break points. His reward was a break for a 3-1 lead, with Nadal's failed serve-and-volley attempt and a double fault proving a temporary setback.
Each time his opponent has dared to look him in the eye this tournament, Nadal has raised his game to eye-popping levels. And so, just like in the first set, Nadal got the break back immediately after inducing an error at the end of a lengthy rally. With the court baking under the sun and the ball bouncing and spinning at his beck and call, Nadal's brutally beautiful clay-court game was shining bright.
The Spaniard won five games in a row to come out soaring in a set in which he found himself in a bit of a hole, a double fault by Ruud to end it also telling the tale of the other side of the net. And once Nadal broke early again in the third set with a pouncing backhand crosscourt winner taken high and early, the gulf had extended beyond Ruud's reach. The final finished with Nadal dishing out a bagel, more than double the winners (37 to 16) and a 30-point edge over Ruud in rallies of five shots or more.
"Today I got to feel how it is to play you in a final. It's not easy. I'm not the first victim," Ruud said on the podium glancing at Nadal.
Could he be his last? With an increasingly worn-out body, that possibility can never be off the table. Nadal himself has acknowledged that this week. After the final, Nadal wouldn't commit either way. Except for one thing, which continues to set him apart. "I don't know what can happen in the future. But I will try to keep fighting to keep going."