Sania Mirza denied fairytale ending; suffers straight-set loss with Bopanna in Australian Open mixed doubles final
Jan 27, 2023 08:43 AM IST
The Indian duo of Sania Mirza and Rohan Bopanna faced a straight-set defeat in the final of the Australian Open mixed doubles.
Sania Mirza faced a heartbreak in the final Grand Slam match of her career, as she – alongside Rohan Bopanna – faced a straight-set defeat to Brazil's pair of Luisa Stefani/Rafael Matos. In a final that lasted just over an hour, the Indian pair went down 6-7, 2-6 to the Brazil duo. Mirza had announced prior to the Australian Open that it would be her last Grand Slam tournament; the Indian tennis star will retire from the sport in February after the Dubai Open.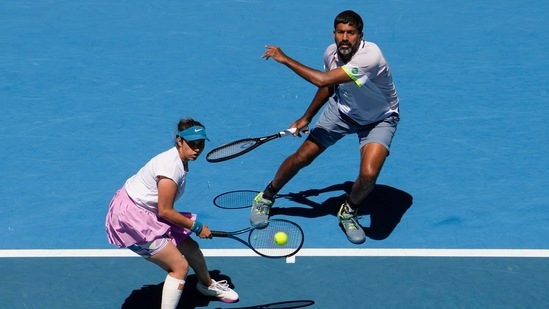 The Indian duo had produced an exemplary performance throughout their run at the Australian Open this year, having defeated the third-seeded US pair of Desirae Krawczyk and Neal Skupski 7-6, 6-7, 10-6 to secure a final berth at the first Grand Slam of the year. They had been given a walkover in the quarters, having registered straight-set wins in the opening two rounds.
In the final, however, the Brazilian pair proved too tricky for the Indians, who were also done in by own unforced errors. Bopanna, in particular, made a series of errors near the net throughout the match that eventually led to the India pair's downfall.
The Brazilian pair took a 3-0 lead in the tiebreaker and Mirza and Bopanna fought back to 3-2, but that was to be the last points the Indian duo took. They missed two overheads in a row, including Mirza's shot into the net on set point.
Stefani and Matos broke Mirza's serve in the fourth game of the second set to go up 3-1, with the break point coming after a lengthy exchange between the teams.
Stefani and Matos are undefeated as a team, having won all seven matches together at the United Cup and at Melbourne Park.
Mirza finishes her Grand Slam career with six doubles championships — three in mixed, including the 2009 Australian Open. She will retire next month after a tournament in Dubai.