Watch: Andy Murray copies Nick Kyrgios' serve for 'funky point' in Wimbledon
Jun 28, 2022 02:21 PM IST
Andy Murray performed an underarm serve to get a point in the third set of his Wimbledon first round match against James Duckworth, on Monday.
Andy Murray was in good form as he staged a comeback to edge past James Duckworth in his Wimbledon first round match at Centre Court, on Monday. After losing the first set, Murray had to rely on his vast experience to finally seal a 4-6, 6-3, 6-2, 6-4 win against the Australian tennis player. During the third set, which proved to be crucial for the outcome of the match, Murray surprised everyone with a Nick Kyrgios-like underarm serve. But it nearly didn't work as Duckworth managed to return it over the net which also surprised Murray, who managed to lob it over and then smashed it on the return again.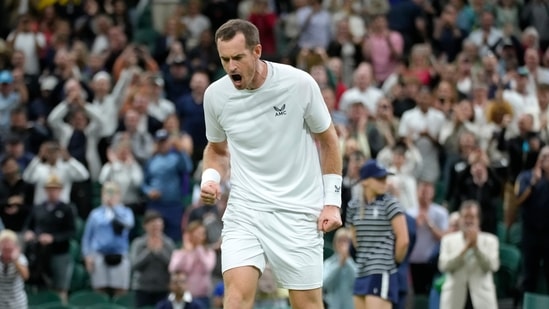 Here is the video of Murray's underarm serve:
The video was well-received by fans and one user wrote, "That was a funky point".
After the game, the 35-year-old defended his underarm serve and stated that it was legitimate. "He changed his return position, that's why I did it," he told reporters.
"He was struggling a little bit on the first-serve return, so he stepped probably two metres further back. As soon as I saw him step further back, I threw the underarm serve in."
Murray also went on to hail the underarm serve as it could prove to be an 'advantage'.
"I personally have no issue with players using it. I never have," he stated.
"Certainly more and more players have started returning from further, further behind the baseline now to give themselves an advantage to return."
"The underarm serve is a way of saying: 'If you're going to step back there, then I'm going to possibly throw that in'."
Further explaining the legitimacy of the serve, Murray justified, "I've never understood that. It's a legitimate way of serving".
"I would never use an underarm serve if someone was standing on the baseline because I think it's a stupid idea because they're going to track it down and it's easy to get."
"If they stand four or five metres behind the baseline, then why would you not do that to try to bring them forward if they're not comfortable returning there?"
"Tactically it's a smart play."
Murray will face John Isner in his second round match, scheduled for Wednesday.
(With inputs from Reuters)