Tamil Nadu man pretends to exercise only to steal bulb, video goes viral
Updated on Jun 29, 2018 02:08 PM IST
Video of Coimbatore man hilarious way of stealing a bulb has left people on social media ROFL-ing.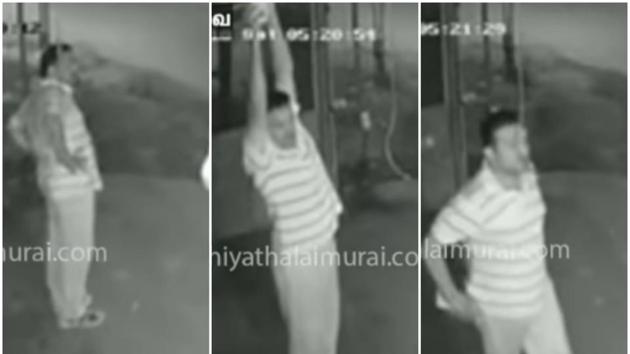 A video, now viral, has surfaced showing a man pretending to exercise on the sidewalk of a busy road only to steal a bulb hanging outside a shop.
The incident was caught on a CCTV camera in Coimbatore's Cheran Ma Nagar, according to an India Today report. The footage bears a time stamp of June 23 at 5am.
The unidentified man can be seen in the clip, which is a little over a minute, casually stretching before trying to slyly remove the bulb from the socket. He quickly resumes his exercises to avoid being caught as he sees a few vehicles pass by.
He finally manages to remove the bulb, slides it into his pocket and walks away totally unaware that his act was caught on camera.
The video was first shared by Tamil news channel Puthiya Thalaimurai TV on YouTube. From there it has made its way to other social media channels and has left people on social media ROFL-ing.
Watch the hilarious video here